Visual Arts
The Art Department at St. Dominic Savio explores both two and three dimensional media as well as photography. The multiple course offerings expose students to art theory, drawing, painting, printmaking, ceramics, sculpture, mixed media, photography, photo editing software and art history. In addition, Art for Water allows students to work with elementary students as well as create their own work –all culminating in a show and sale of work to raise money to build water wells in Burundi Africa. Visual Art students participate in multiple national art competitions during the year and student work is displayed in the halls throughout the building. There is an annual Spring Art show to celebrate the accomplishments of all students participating in the visual arts program.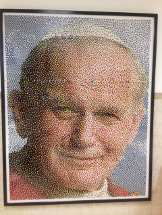 St. John Paul II Push Pin Project
Over 35,000 push pins were used in this portrayal that hangs in our main entrance hall.