Football
Practices for the Football season begin in August during the week. Please contact Coach Tim Prukop to learn more about the football season practices. In school year 2016-2017, several football players were nominated for the All-State and Academic All State teams. Read more about who was nominated.
Accolades
2017-2018 TAPPS Division V
State Semi-Finalist
2016-2017 TAPPS Division V
State Semi-Finalist
2011-2012 TAPPS Division III
Bi-District Finalist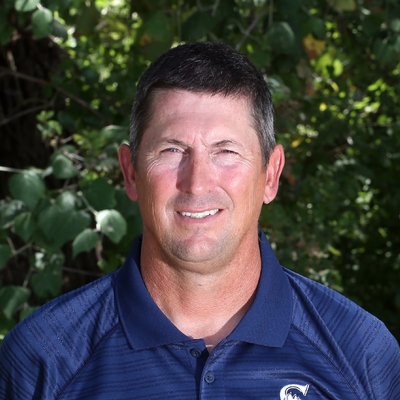 Coach Tim Prukop
Head Coach
Coach Prukop has been involved in football for his entire life as the son of a football coach, Al Prukop, who coached for thirty-eight seasons, and he himself has coached for twelve years. Coach Prukop is back to the Savio community, after serving as a founding member of the first Advisory Board for St. Dominic Savio from 2010 to 2012 advising the President of the school with Marketing. In 2014, Mr. Prukop also served on the Ad Hoc Committee for Communications as part of the Pastoral Plan for the Diocese of Austin.
Before becoming a football coach and advisory member, Coach Prukop was an All-Angelus League Defensive End at Servite High School in Anaheim, CA on the 1982 Friar team that won the CIF Southern Section Div. I Championship. That season ranked #1 in the state of California and #3 nationally by USA Today. He continued his playing career as a linebacker at UC Davis earning All-NCAC Conference honors his senior season and a Bachelor of Arts degree in Political Science. Under the guidance of College Football Hall of Fame Coach Jim Sochor, UC Davis won the NCAC Conference Championship in each year, and competed in the NCAA Division II playoffs three times while Coach Prukop was an Aggie.
Coach Prukop then went on to earn a Master's Degree in International Relations from Arizona State University where he was a Graduate Assistant football coach for the Sun Devil's in 1988-1989, and responsible for video and assisting with the Linebackers. Coach Prukop also assisted on defense at the University of Southern California from 1993-1996 during which time the Trojans won the Pac10 Championship twice and victoriously won the 1993 Freedom Bowl vs. Utah, 1995 Cotton Bowl vs. Texas Tech, and 1996 Rose Bowl against Northwestern. After the Rose Bowl victory, Mr. Prukop was hired as the Defensive Coordinator by the Amsterdam Admirals of the NFL Europe and there he led the top defensive unit of the league, during the spring season in 1996.
In the Fall of 1996, Coach Prukop accepted a position to teach and coach at Santa Margarita Catholic High school, and the team improved 13-1, and won the CIF Southern Section Div. V Championship. During that season, Santa Margarita's defense set a record for the fewest points ever allowed in the CIF post season when only 6 points were scored against the Eagles during their final five games. Coach Prukop then returned to Servite High School as its Defensive Coordinator from 1997-99 before stepping away from football to focus on raising his four children and pursuing a career in technology sales.
The Prukop family moved to Austin, TX in 2000 when his company (Exodus Communication) asked him to start up the sales office here. Since moving to Austin, Coach Prukop has been actively involved in youth sports and high school sports holding various board level positions with many youth sports organizations and high school booster clubs. In 2012, the Prukop's opened 1UP Sport Performance, an athletic performance training facility in Cedar Park, TX that focuses on the development of speed and strength for athletes trying to take their game to the next level.