Campus News
Archives - December 2019
December 05, 2019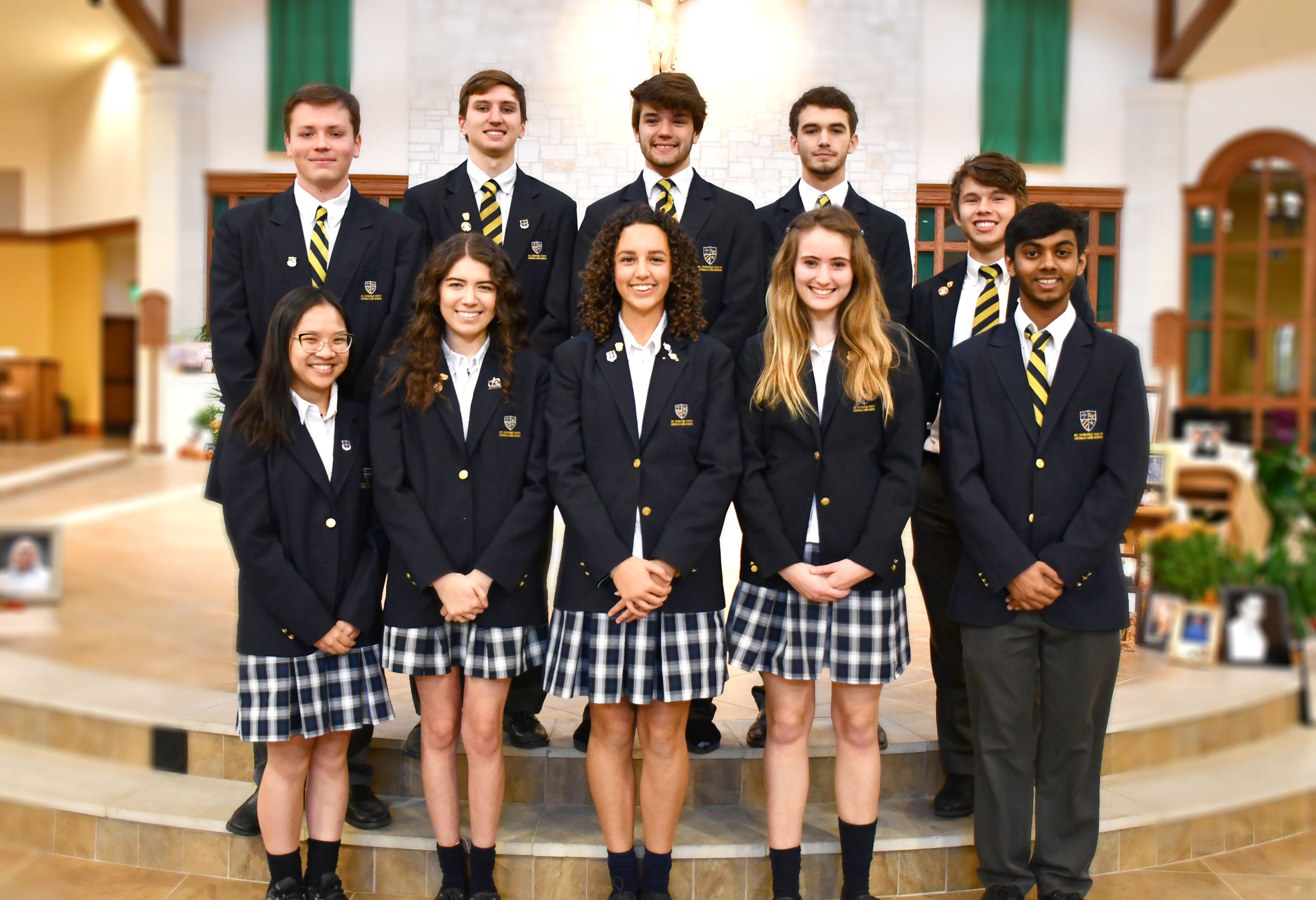 On Wednesday, November 13, the school recognized the National Merit Scholars after Mass with a reception at St. Vincent de Paul. The National Merit Corporation made this information public in September, but we wanted to recognize our students with a special announcement after Mass and a reception.
The 10 students and their families will be also be formally recognized on March 4th, with a reception at St. Helen Catholic School in Georgetown, hosted by the Diocese of Austin Bishop Joe Vásquez.
The National Merit Scholar Recognition receives 1.6 million entrants, and about 50,000 students are selected for the highest PSAT/NMSQT® Selection Index scores (calculated by the Reading, Writing and Language, and Math Tests) that qualify for recognition in the National Merit® Scholarship Program. In the fall, these high scorers are notified through their schools that they have qualified as either a Commended Student or Semifinalist.
Semifinalists
In September, about 16,000 students were notified that they have qualified as Semifinalists. Semifinalists are designated on a state-representational basis and are the highest-scoring entrants in each state. Qualifying scores may vary from state to state and from year to year, but the scores of all Semifinalists are extremely high. To be considered for a National Merit® Scholarship, Semifinalists must advance to Finalist standing by meeting high academic standards and all other requirements explained in the information provided to each Semifinalist. View the Requirements and Instructions for Semifinalists in the 2020 National Merit Scholarship Program for more information.
We congratulate Luke Wagner, who qualified as a Semifinalist this year!
Commended Scholars
In September, more than two-thirds (about 34,000) of the approximately 50,000 high scorers on the PSAT/NMSQT®, receive Letters of Commendation in recognition of their outstanding academic promise. Commended Students are named on the basis of a nationally applied Selection Index score that may vary from year to year and is typically below the level required for participants to be named Semifinalists in their respective states. Although Commended Students do not continue in the competition for National Merit® Scholarships, some of these students do become candidates for Special Scholarships sponsored by corporations and businesses.
We congratulate the following students on receiving this National Merit distinction: Connor Buchanan, Alina Davison, David Johns, Brendan Mazzurana, Ryan McKinstry, Cole Smylie, Joanne Uong, and Isabel Weir!

National Hispanic Scholars
Each year the National Hispanic Recognition Program (NHRP) recognizes about 7,000 academically outstanding Hispanic/Latino high school juniors who take the PSAT/NMSQT®. To be considered, students must take the PSAT/NMSQT in their junior year, be at least one-quarter Hispanic or Latino descent, achieve the minimum required PSAT/NMSQT cut score for their region; and have a junior, mid-year, cumulative GPA of 3.5 or higher.
We congratulate Alina Davison and Trinity Garcia on receiving this distinction!
Principal, Dr. Garcia would like to share the following statement about the National Merit Distinction, "On behalf of the Savio community, I congratulate our students who received National Merit Recognition. This recognition is a culmination of these students' dedication to work hard and achieve academic success at the highest levels, as well as the commitment of their teachers and parents to encourage and support these in their academic endeavors at Savio. Achieving National Merit Recognition by these students is a testament to our mission to provide students with the opportunity to apply themselves in order to obtain a high-quality education, reach their full academic potential, and earn national recognition. We are proud of our students and thankful for the blessing of their achievements."
--
St. Dominic Savio Catholic High School is located in northwest Austin, Texas, in an active and thriving community. Savio is a college preparatory school, to prepare young men and women to become faith-filled, visionary and inspirational leaders in service to the Church and the world. St. Dominic Savio offers a faith experience that encourages students to reach their full potential as caring, conscientious, and moral servant leaders. The vision is Forming Servant Leaders in the Image of Christ. For any questions, please contact the Director of Communications, Ms. Cristina Mares, by email: cmares@saviochs.org.