Campus News
Archives - January 2018
January 17, 2018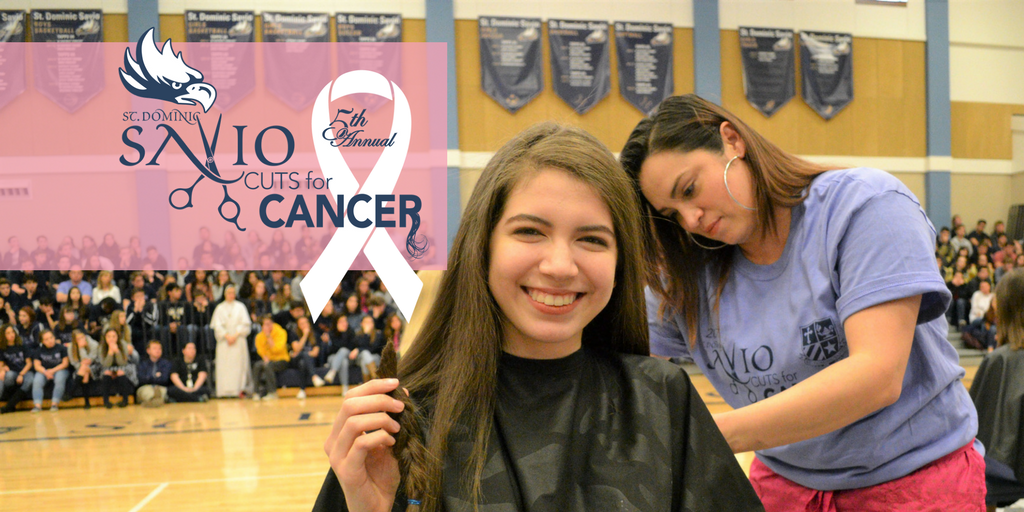 The Savio Cheerleaders will be hosting the 5th Annual Savio Cuts for Cancer on February 9, 2018, 2:30 pm.

Savio Cuts for Cancer was started five years ago by a Savio Alumni to honor the mother of her best friend, Ms. Thea Williams. This year, St. Dominic Savio is honoring the memory of Ms. Thea Williams on the 5th Cuts for Cancer event for the second time.

This event will allow for anyone to cut a minimum of 8 inches of hair to donate to Pantene Beautiful Lengths. All ponytail donations collected during the event, will help make wigs for those who have lost their hair, while battling cancer.

In addition to the ponytail donations, monetary donations will be collected and sent to St. Jude's Children's Research Hospital.

You can support the event by purchasing a special 5th-anniversary t-shirt or by becoming an event sponsor. All purchases will be accepted by January 23rd.

If you are interested in donating your hair, please contact the Athletic Director, Ms. Crystal Clark at cclark@saviochs.org, by January 23rd.

If you are interested in purchasing an event t-shirt visit the link to order by January 23rd.
About Ms. Thea Williams
The legacy of love and devotion Thea Williams had to her family and friends will be forever cherished, especially by her two children, Khari and Amira. Thea attended Catholic schools and graduated from Highlands High School. Her love for journalism blossomed at a young age and she eventually went on to obtain a Bachelor of Journalism degree from the University of Texas at Austin. She later attended Northwestern University's Medill School, obtaining a Master of Science in Journalism. Thea spent the bulk of her career at KVUE-TV in Austin, Texas. She was a member of Alpha Kappa Alpha Sorority, Inc., Jack & Jill of America, Inc., the National Association of Black Journalists, and an active member of Holy Cross Catholic Church. Thea was a talented and accomplished journalist and was widely respected for her high standards and great compassion. However, Thea relished in the joy of being a mother and considered her role as Mom her greatest accomplishment.
Thea was a strong believer in education and she worked tirelessly to ensure that her children, and others' children, received the best education possible through her work as an educator, journalist and mentor. Thea was gregarious and fun-loving, and "to know her was to love her." She was a devoted mother, a beloved daughter, a loving sister, a favorite niece, and a special friend to many. She will always be remembered for her unwavering faith in God, her smile, and her robust laughter. On September 29, 2010, after a courageous battle with cancer, Thea's journey on this earth came to an end and she went on to begin her new life with her Heavenly Father.