Campus News
Archives - November 2016
November 18, 2016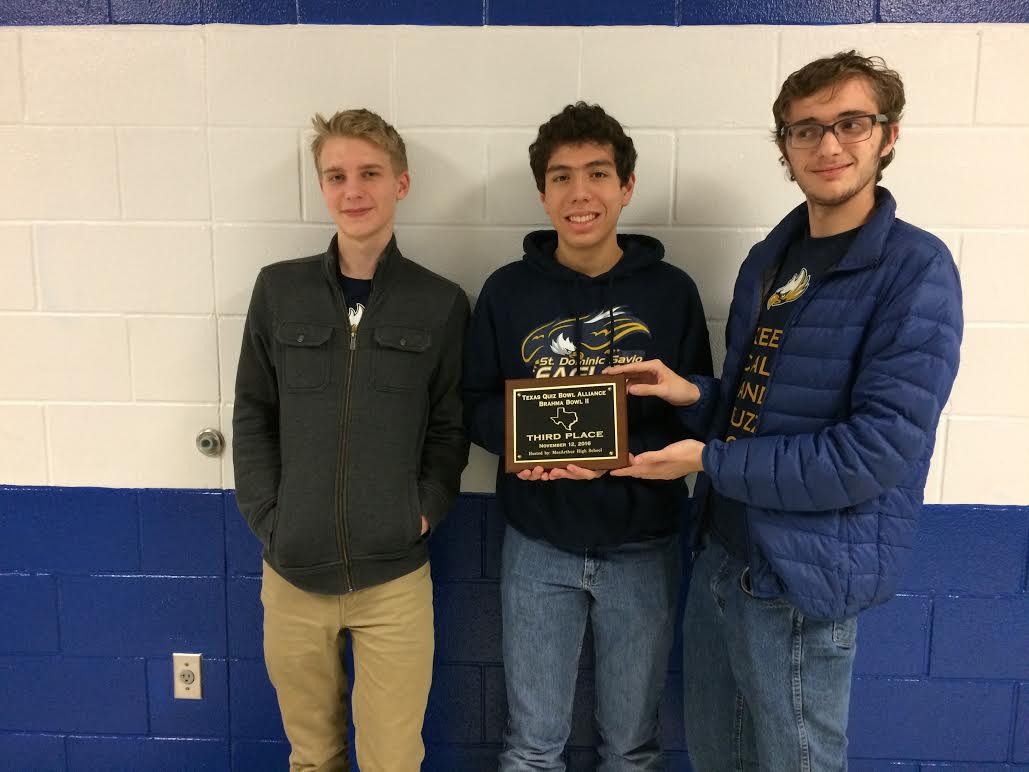 On Saturday, November 12th, Savio seniors Eleazar Camez, Jack Frey and Daniel Jilek traveled to San Antonio MacArthur High School to compete in the Brahama Bowl Quiz Bowl Tournament. A total of 19 teams from Austin, San Antonio and the surrounding area competed in the tournament.

Depsite having only three players on the roster, the Eagles dominated the preliminary rounds. They went 6-0, winning by an average score of 356 to 92. Their only close match in the prelims was a 290-235 win over rival San Antonio Reagan "A". The perfect record gave the Eagles the number one seed for the afternoon playoffs, including a first round bye.

In the quarter-finals the Eagles quickly dispatched the "A" team from Keystone High School by a score of 275-170. But the semi-finals spelled doom for the Savio team. Their other San Antonio nemisis, Brandeis "A", proved too tough, eliminating the Eagles 305-165.

Daniel led the scoring for the Eagles with 81.88 points per game (15 powers and 6 NEG5's). Daniel was also the the number two scorer in the entire tournament. The seven wins in this tournament have moved the Eagles up to #11 in the Texas Quiz Bowl 2016 Race for the Cup standings.

The third place finish was high enough to qualify the Savio team for the High School National Championship tournament in Atlanta on the weekend of May 26th. Additionally, due to a recent rule change, the Eagle team is eligible to compete in the Small School National Championship Tournament in Chicago on the weekend of April 29th.

The next tournament for the Savio Quiz Bowlers will be the Houston Holiday Hoedown, aka the "Ho Ho Ho", on December 3rd at Seven Lakes High School in Katy.