Campus News
Archives - May 2015
May 19, 2015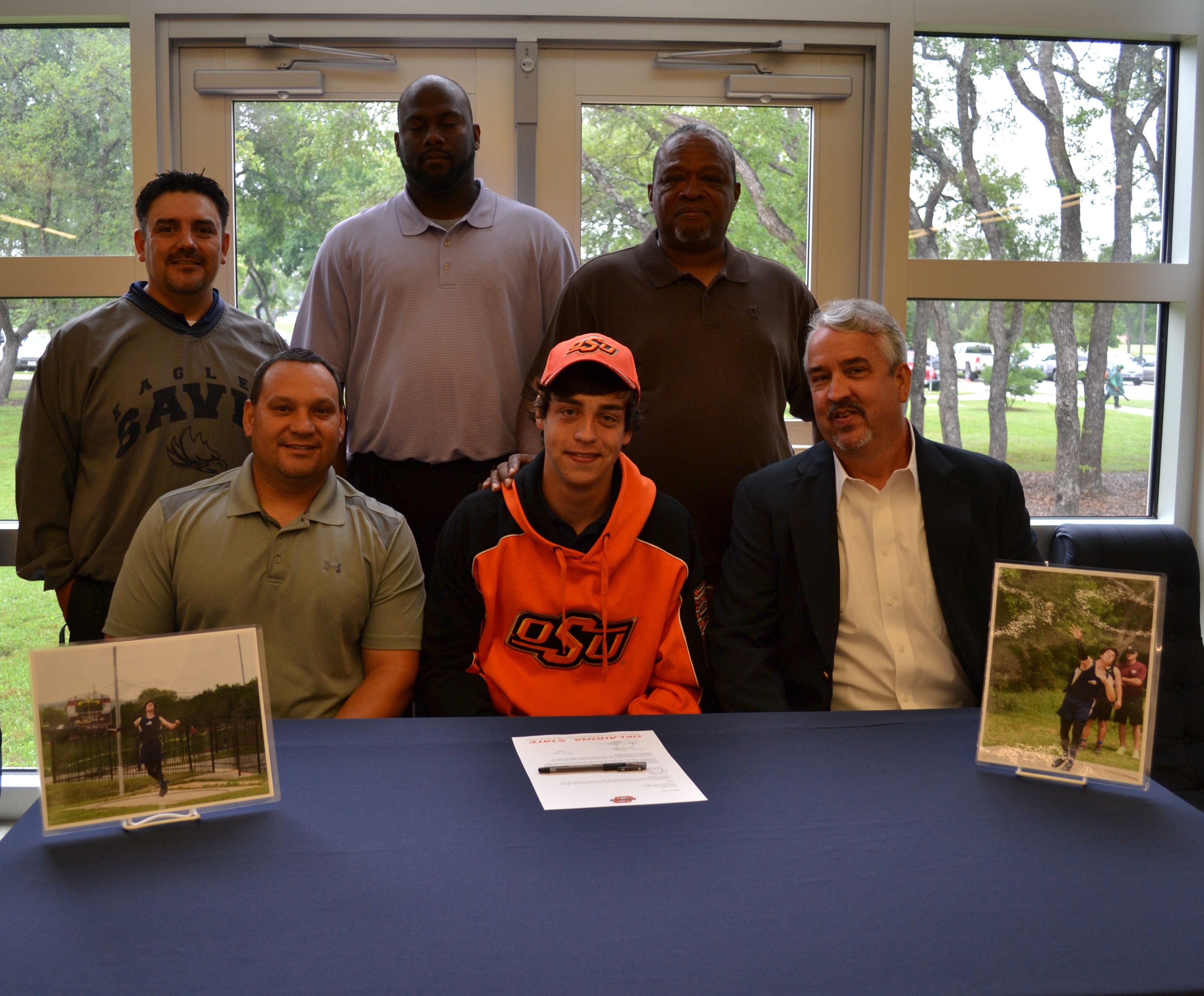 On Tuesday, May 12th, Sean Casey signed his official letter of intent to join the Oklahoma State Track & Field Team before a joyful assembly of family, friends, teammates, coaches and school administrators. Seated with his proud father and coaches, Sean proclaimed "It's official!" before graciously greeting his supporters and thanking each person for coming.
During his high school years, Sean has won over 50 medals in the shot put, javelin, and discus events combined. His list of accomplishments includes 1st place Discus throws at the 2015 TAPPS District 3 4A meet and at the TAPPS 4A South Regional meet, and Sean is the current TAPPS 4A State Champion in the Discus. He is the 2015 District Champion in the Shot Put, and finished 3rd at Regionals, and 5th at the TAPPS State meet in this event. Last summer,Sean was a Gold and Silver medalist in both the USATF and AAU Junior Olympic State Championships.
Sean finished 11th in the Javelin at the 2014 AAU National Junior Olympics, and is currently ranked #9 in the nation among high school javelin throwers. As one of the 10 best in the nation, Sean was invited to compete in the javelin at the prestigious 2015 Carl Littlefield Texas Relays and finished with a 4th place throw in that elite competition.
Remarkably, Sean is accomplished academically as well. He has been accepted into the Oklahoma State University School of Mechanical and Aeronautical Engineering and awarded a 50% Academic Scholarship for all four years at OSU based on his academic performance and his SAT scores.
St. Dominic Savio Catholic High is very proud to send a student athlete on to a premiere Division I university sports team. This accomplishment is a testament both to Sean's talent and his determination. Savio Throwers Coach, Steve Garza says of Sean, "he is an individual that is willing to dedicate himself to become the best at what he chooses to do."
Savio Track is extremely proud of Sean and wishes him Godspeed and great throwing at Oklahoma State University!