Campus News
Archives - December 2015
December 14, 2015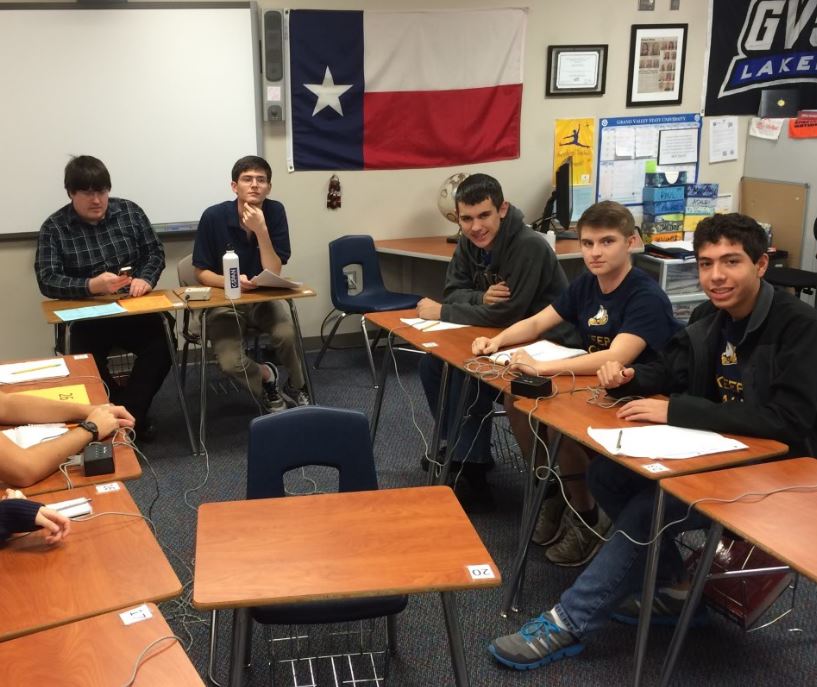 On Saturday December 12th the eighth annual Houston Holiday Hoedown (aka "The HoHoHo") saw the Savio Quiz Bowl team competing against some of the best teams in Texas. Senior Patrick Lahey was captain and, along with juniors Eleazar Camez and Nick Isakson, the Eagles faced off against 26 other teams at Seven Lakes High School in Katy.

The preliminary rounds were tough as the Eagles suffered lopsided losses to two of the top teams in the tournament. They lost to LASA B, who finished in 2nd place overall, by a score of 540-145 and to Dallas St. Mark's, who finished tied for 5th place, by a score of 470-155. But Savio's other two preliminary round losses came in matches that were competitve. These were to St. Thomas Catholic, who finished the prelims with the #5 seed, by a score of 340-205, and to Bellaire Red, who also finished tied for 5th, by a score of 250-185.

But Eagle team notched two solid preliminary round victories. The first over Bellaire White by a score of 290-130, and the other against DeBakey High School by a score of 290-185. With a 2-4 preliminary round record Savio took the #19 seed into the playoff round. In their first playoff match they defeated the #26 team from Mayde Creek High School 255-130.

The next playoff match was with #10 seeded Seven Lakes B. It was a back and forth battle all the way, with Eagles grabbing a 45 point lead going into the last toss-up. Unless the Eagles made a mistake and negged, the best Seven Lakes could do at this point was force a tie. The Savio team showed discipline through the reading of the last question, ultimately allowing the Seven Lakes team to win the toss-up. Surprisingly the Seven Lakes team then swept all 30 bonus points, but the fact that they failed to answer the toss-up with a power meant the Eagles held on to victory 235-230.

The next playoff match put Savio up against LASA C. The first half of the match was emotionally charged, with the LASA team challenging a number of officiating decisions. At the half the Eagles held the lead 130-120. But LASA surged in the second half pulling out to a 265-180 lead going into toss-up #17. The Eagles closed the gap to 265-250 going into toss-up #19, but LASA pulled away at the end to win 330-250.

Savio finished in a tie for 9th place overall on the day. Patrick Lahey led the scoring with 40 points per game (8 powers and 2 NEG5's). The next tournament for the Eagles will be January 30th in San Antonio.