Campus News
Archives - April 2014
April 08, 2014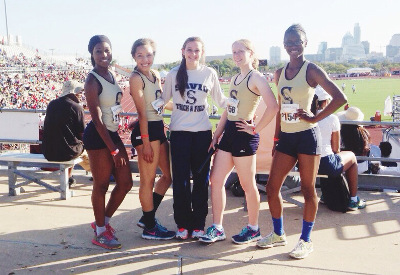 Our Savio Track team is shaving off minutes, establishing personal best times and stats with Regional and State TAPPS competitions in reach! Here are highlights:
BVU Track Meet - Dallas, TX. March 26
The Savio Eagle's Track Team did a great job at the BVU meet in Dallas, TX! The girls 4x200M relay team won their heat and ran a very fast time of 1:48.53, which was a big improvement from their last race. They were in place to win the event by a long way, but they were (controversially) disqualified for stepping out the zone. They also improved the 4x400M relay's time, from 4:34.23 to 4:23.00, and finished in 3rd place.
Noteworthy performances:
Alana McKendall and Alexis Phillips finished 6th & 7th place overall in the 100M dash.
Alana McKendall finished 3rd overall in the 200M. Sam Alvarado ran a PR in the 800M at 2:23.11, and Julian Sparks had a PR again in the 800M with a time of 2:12.23 (last week he ran 2:15). Stephen Hampton, a freshman, did an awesome job as a freshman in the 100M. He finished 2nd in his heat and 4th in his heat in the 400M. Ana Richie and Jennifer Ezuruike were top ten finishers in the 400M. Melanie Shempert did a great job in the 200M and 400M dash and Cristian Cowley threw his PR over 80 feet.

Texas Relays - Austin TX. March 28 (No medals but seconds lost and drama on the big stage!)
There was excitement and drama for the day. It was a small, but mighty, Savio delegation on warm, sunny Friday afternoon for the amazing Texas Relays! After sharing a healthy team luncheon, the 4x400m relay team Alexis Phillips, Angele Kelly, Ana Richie, Jennifer Ezuruike, Stephanie Moses and their dedicated fans navigated the crowds, lines, parking garages, bag searches, on their way into the BIG EVENT. A thunder storm rolled in as Alexis, the first leg, took her mark. The stadium was evacuated before they could run their heat. When it was safe to return, our Lady Eagle team returned to the track as we made our way back to high ground. Once more, Alexis took her place in Lane 3 and we all felt a great anticipation. This is where the 8 seconds got lost!! As unbelievable as it may seem, each of our ladies just left it behind right there on the track. They are all to be held responsible. In fact, in just her one turn around the track, Jennifer lost 4 seconds of it herself!! Finishing strong and right in the mix of other runners in their heat, our ladies abandoned 8 seconds that they came in with. Just amazing!
Big Red Relays - Belton, TX March 29
Our Team stepped up and burned the track. Here are the highlights for this post Texas Relay meet the next day: Alana McKendall 2nd 100m and 200m, Ana Richie 1st in 400m, Angle Kelly 1st in triple jump, Sean Casey 1st in discus.
SAC Invitational - San Antonio, TX April 4
Medals, Medals! State meet here we come! Stephanie Moses took home 1st place in 200m, Angele Kelly 4th in 200m, Sam Alvarado 6th in 400m, in 400m Ana Richie took 1st with Angele Kelly 2nd! Andrea Alvarado placed 9th, Julian Sparks took home 2nd in 800m and 6th in the 1600m, Melanie Shempert 3rd in 300m hurdles, Sean Casey 6th in shot put, 2nd in Discus, Angele Kelly placed 3rd in Triple Jump. Many individual improvements and new events were taken on by our young team! Up and coming performers continue to show great improvement: Alexis DeMeo, Andrea Alvarado, Melanie Shempert, Steven Hampton & Matthew Bianchi!