Campus News
Archives - February 2014
February 26, 2014
Something wonderful has been happening in our Athletic department aside from the obvious team goals and accomplishments within the sports. With the support of the athletic directors, a program they are calling the Chaplain Corps is being formed to more fully incorporate the Savio mission of forming servant leaders into the athletic programs.
The Chaplain Corps is being developed by Head Baseball Coach Mark Sloat, some of the other coaching staff, and our Director of Formation and Ministry, Mr. Chris Ochoa, along with a core group of students: Seniors Chris Gray, Chizi Ibizum, Ashlee Keeley, Nick Zamora and Junior Calvin Nazareth.
The mission of the Chaplain Corps is to assist student-athletes in becoming servant leaders and disciples of Christ. Striving to integrate their Catholic faith into their everyday lives through athletics, their relationships with others, and community service.
Coach Sloat: "Our athletic directors attended the 'Play Like a Champion' conference at Notre Dame last summer and came back with a lot of good ideas and resources for beginning this idea. We have come up with "building blocks of success" for living our faith on and off the field. This is the foundation towards our success... we want this to be the model for all sports programs at Savio and we hope to inspire all of our sports programs to participate."
The Savio Eagles baseball team is the pilot team for this program. Coach Sloat recently organized a team service day to Legacy Ranch, a foster family community and retreat center, where they spent the day playing games and holding a baseball camp for the kids in foster care. (Read about it HERE)
Before their matchup against Reagan High school, the team spent over an hour in the Savio chapel with Deacon David Ochoa where they talked and prayed about what it means to be a Christian athlete and how they can be competitors on the field, but after the game still be brothers in Christ.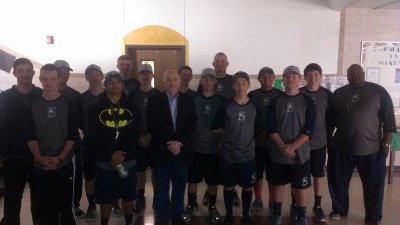 After the game, they invited the other team players to pray together with them. It was exciting to see players from a public school team eager to join our players in prayer.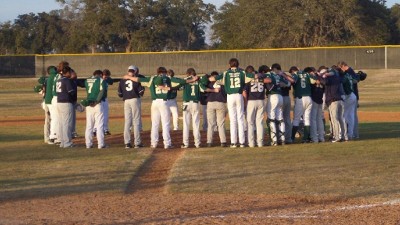 What inspired you to be part of this program?
Coach Mark Sloat: "Initially, Chris Gray came to me for ideas on ways for them to be leaders. However, I'd be lying if I didn't mention Tom Bierschenk, one of our many supportive parents and benefactors. Tom never asks for anything and is always giving back to his church, his family and supporting Catholic education. He sees a need and wants to help in any way. He doesn't want a plaque for his efforts or any kind of medal; he just truly wants to help. Even if he's on crutches. Every surgery I have had, I ask myself, would Tom slow down? He embodies what servant leadership is."
Mr. Chris Ochoa: "Coach Sloat approached me in the fall with the idea of working with students to help them make a stronger connection between their faith and their participation in athletics and I was immediately excited by the possibility. I believe that peer-led ministry is a crucial way that we can encourage students to engage and take ownership of their relationship with God and the Church and the Chaplain Corps is a wonderful way for our student chaplains to do just that. I also believe that their witness to putting God first in their lives - even in sports - is inspiring many other students at Savio and the other schools we play to seek God both on and off the field."
Chris Gray: "I'd like to establish the program so that kids have an easy and enjoyable way to be involved with their faith and their school community."
Nick Zamora: "St. Dominic Savio has helped me to strengthen my faith over the past four years. I wanted to give back to the Savio community by helping student athletes to integrate their faith with the sports and activities that they love."
Here's what coaches and players are saying about the program:
Assistant Baseball Coach Dove: "1st ever Chapel and I loved it! Thanks Mark Sloat, Deacon Ochoa and Nick Zamora. Much needed!"
Nick Zamora: "Setting time to pray and reflect in the chapel with Deacon David helped me to see that I can be a disciple of Christ both on and off the baseball field. I was reminded that my talents are gifts from God, and that we can use them to be Christian role models for others."
Calvin Nazareth: "I love being part of the Chaplain Corps because it gives me the opportunity to witness Christ's work in the lives of my teammates and the players on the other teams. Praying and playing with all kinds of people is a great experience that helps me become a better Christian and a better athlete."
Frank Nichols: "We needed the time at chapel before the game to gather and reflect and get our priorities straight. And we did."
Tanner Martinez: "I really enjoyed praying with the other team after the game. It felt like we were competitors on the field but off the field it helped us to be connected."
Lafayette Ortegon: "It was inspirational for the players to go to chapel and it affected how we played. Two thumbs up for the program!"
Tony Aufieri: "Deacon Ochoa told a good story about the professional player and it helped us out in our game."
Brandon Rodi: "In chapel, we learned from a few examples of people that are Catholic and also professional athletes. It taught us how to be players of God on and off the field."
What goals do you have for the baseball team as you incorporate the Chaplain Corps program?
Coach Sloat: "Senior Nick Zamora has been the pioneer for the baseball program. He and I meet weekly about how we can continue to inspire the rest of our programs and the baseball team. It's my goal that they learn the game of baseball and how sharing your faith through sports can help spread God's word and inspire others to do the same. At the end of the day that's a bigger win than a walk off homerun."