Campus News
Archives - October 2014
October 31, 2014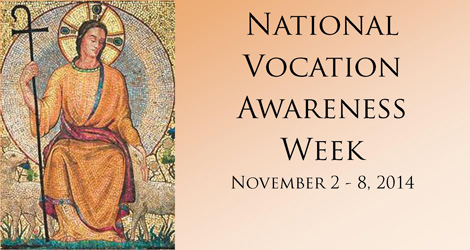 Next week, in recognition of National Vocations Awareness week, we will celebrate St. Dominic Savio's own "Vocations Blowout Week". Throughout the week we will be praying to hear and respond to God's call in our lives.
Each day we will contemplate a particular vocation and pray for all those God is calling to live as disciples in Christ in this way:
Monday- Consecrated Religious Life
We will be praying for vocations to the consecrated religious life. We will be celebrating this day with a saint dress up day because it is the first school day after All Saints Day. You can dress up as your favorite canonized saint, ladies come up with your favorite religious sister or married woman saint. Gentlemen, dress up as your favorite religious brother, priest, or married male saint.
All saint costumes must conform to dress down expectations- no shorts, skirts, tight clothing, etc.
Tuesday- Ordained Ministry
We will be praying for vocations to the priesthood and diaconate. We will be doing an activity in family time that recalls all of the priests and religious who have inspired us by their faithfulness to the call of Christ. (Family time is normally on Thursdays but due to the sale of class rings, it and Assembly are flipped this week.)
Wednesday- The Universal Call to Holiness
We have Mass as a community (normal Wednesday schedule). We will be praying for all vocations as well as the Universal Call to holiness.
Thursday- Single Life
We will be praying for vocations to the dedicated single life. We will have the special privilege of hearing a special presentation during assembly time.
Friday- Married Life
We will be praying for vocations to the married life. We will bring our week to a close with exposition of the Blessed Sacrament.