Campus News
Savio Honors Board Member
December 09, 2019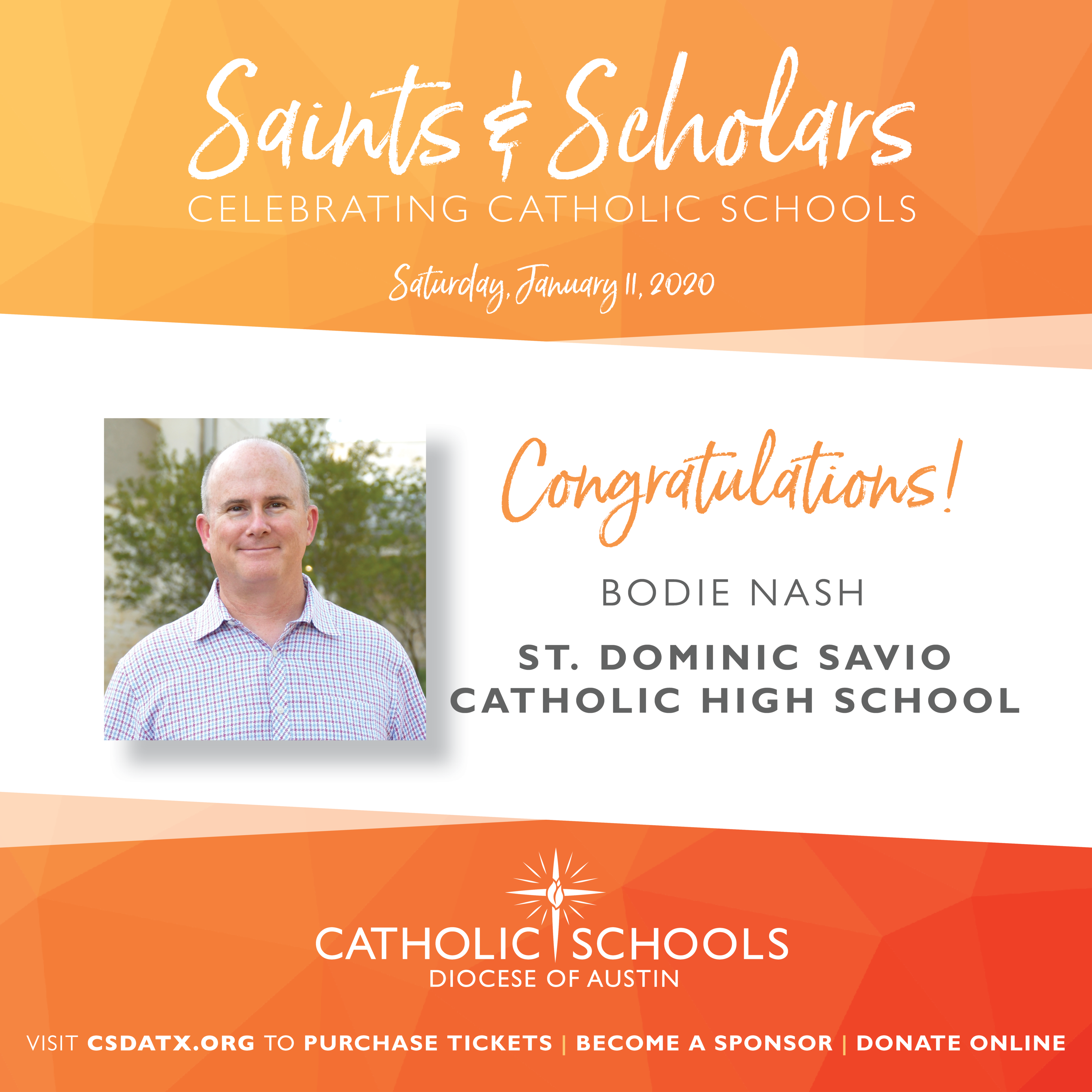 Join Catholic Schools in the Diocese of Austin for an evening of celebration in honor of 20 Diocesan school heroes on Saturday, January 11, 2020, at the Hyatt Regency in Austin (208 Barton Springs Rd, Austin, Texas 78704). These individuals are members of our communities who give so much to advance the mission of Catholic schools in the Diocese of Austin. This year's keynote is Abby Johnson! You don't want to miss this event
About Our Honoree
Please save the date and help us honor Mr. Bodie Nash this year.
It is a pleasure to recognize Bodie Nash as our honoree for the Catholic Education Service Award. Bodie is a long-time board member at St. Dominic Savio Catholic High School, having served on several administrative searches, as well as the Nominations and Strategic Planning committees. His background in human resources has made him an invaluable member of the board, with a deep understanding of institutional organization and planning. Bodie is a wonderful wordsmith and has served as Secretary of the board for many years, providing an invaluable history of the actions of our board. These many contributions make Bodie Nash a wonderful honoree for the Catholic Schools Service Award. It is a pleasure to recognize him in this way.
Please join us at the event on January 11th and register for the Diocese of Austin registration page!
Schedule of the Event
6:00 PM - Saints & Scholars Reception
7:00 PM - Awards Dinner
9:00 PM - Saints & Scholars Social
--
St. Dominic Savio Catholic High School is located in northwest Austin, Texas, in an active and thriving community. Savio is a college preparatory school, to prepare young men and women to become faith-filled, visionary and inspirational leaders in service to the Church and the world. St. Dominic Savio offers a faith experience that encourages students to reach their full potential as caring, conscientious, and moral servant leaders. The vision is Forming Servant Leaders in the Image of Christ. For any questions, please contact the Director of Communications, Ms. Cristina Mares, by email: cmares@saviochs.org.