Campus News
Iron Eagles Advance to the Regional Tournament!
February 01, 2017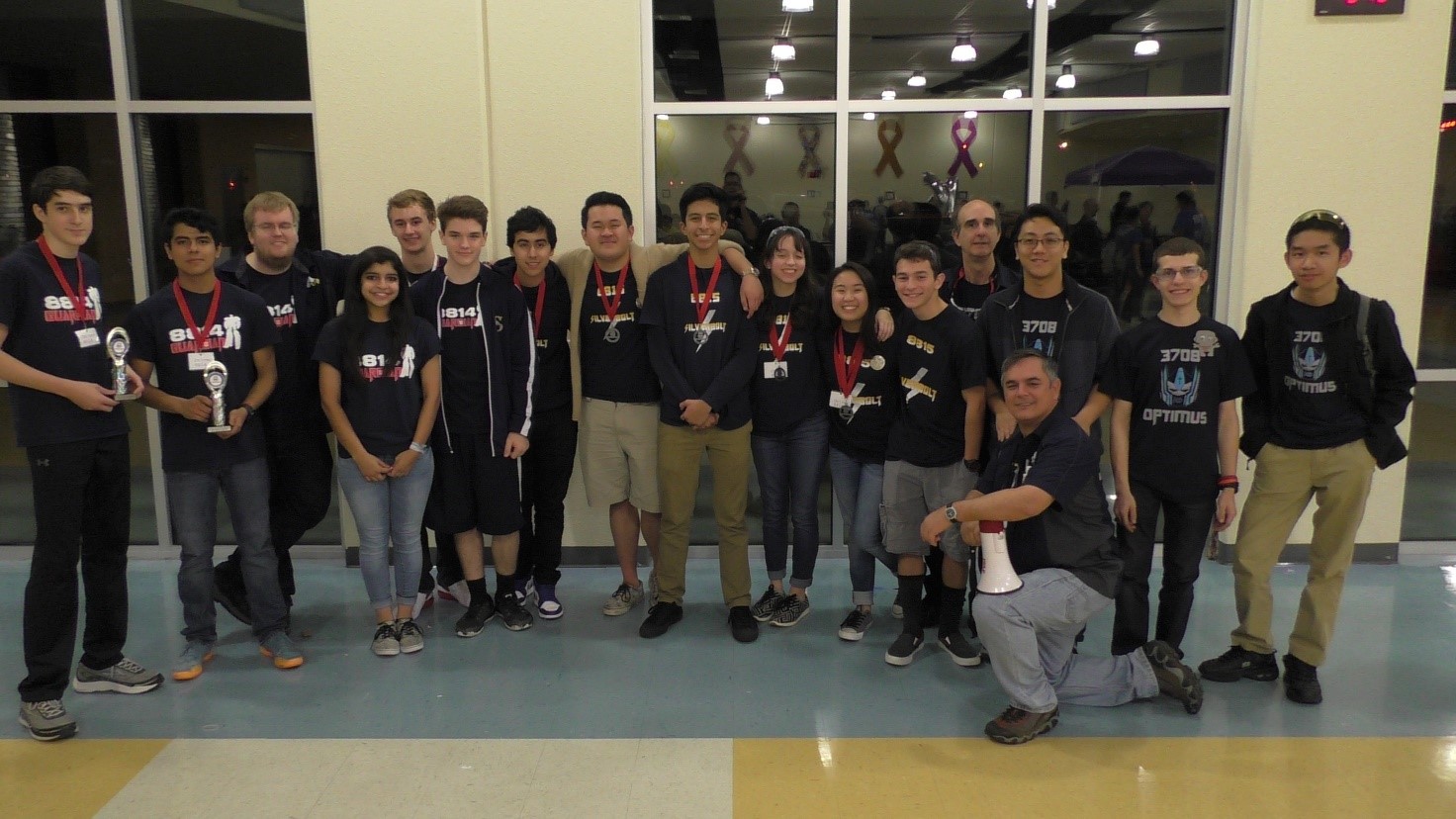 On Saturday, Jan. 21, Savio's four Iron Eagles Robotics teams competed in the first Austin Metro League Championship. This was a new event for the area's FIRST Tech Challenge (FTC) teams, as our region moved to League play for the first time. Starting in November, the Austin area's 52 FTC teams split into four leagues of 13 teams each to form the "Austin Metro Leagues" (Spades, Hearts, Diamonds, and Clubs). After 3 league meets (one of which was held on Jan. 7 at Savio, for our first hosted robotics tournament ever!), the four Iron Eagles teams needed to bring their "A" game to the League Championships, which determined the 16 teams to advance directly to the Alamo Regional Tournament.
Entering the tournament, the Iron Eagles teams all held competitive positions within their leagues. The two Leagues were randomly combined into two divisions of 22 teams each - in the "Hearts/Clubs" division, Iron Eagles Prime was ranked #5 and Iron Eagles Optimus was ranked #12, while in the "Spades/Diamonds" division, Iron Eagles Silverbolt was ranked #6 and Iron Eagles Guardian was ranked #11.
Team Prime opened for the Iron Eagles with their best day yet, shocking the competition by winning all five of their matches to move up to #1 in their division! Meanwhile, Team Optimus struggled through some mechanical failures throughout the day, struggling in their first four matches against some very tough competition. But they finally got it all together in their last match, where they joined their sister team Prime to help put them into first place! Optimus scored big in their autonomous program to start the match, and the "Optimus/Prime" alliance cruised to an easy 110-20 win in both teams' final match of the day.
In the Spades/Diamonds division, Team Guardian started off strong with a win in their first match before losing a few close matches (including a tight 15-point loss when they were forced to play against sister team Silverbolt). But they also came on strong in their final match, winning 120-20 to finish with a 2-3 record and dropping just one spot to #12 in the final rankings. Meanwhile, Team Silverbolt scored high in all of their matches, but dropped 2 games to the eventual #1 seed and to an alliance of two teams who were both ranked just ahead of them. Silverbolt actually gained on 3 of the teams that had been ahead of them, but also lost ground to two others and thus ended the day as the 8th seed in their division.
The excitement peaked as each division prepared for the elimination rounds. In these rounds, the top four seeded teams select two other teams to form "alliances" that compete in best-of-three matches to determine the league winners. As the #1 seed in the Hearts/Clubs division, Team Prime was strongly challenged by the #2 seed from St. Gabriel's, as they both strived to select the best teams available for their respective alliances. Both alliances won their semifinal matches 2-0, and then Prime split the first two matches in the division finals before falling in the third.
In the Spades/Diamonds division, teams Silverbolt and Guardian had played well and were ranked fairly high, but had to wait and see if they would be selected by one of the top-seeded teams. As luck would have it, Silverbolt was selected to join the powerful #1 alliance, led by Vandegrift's QuadX team, while Guardian was asked to join the #2 alliance led by Vandegrift's Hydra team. As in Prime's division, both top alliances won their semifinals 2-0, which set up a showdown in the finals between Silverbolt's and Guardian's alliances. Silverbolt's #1 alliance was then able to defeat Guardian's #2 alliance 2-0 to win the division.
That completed the regular competition, but the new league decided to end the event with a head-to-head matchup between the two division champs. Silverbolt's two alliance partners opened with a big win in the first game, and then QuadX teamed up with Silverbolt to close it out with an exciting 240-215 win, setting the new league scoring record and winning the first annual "Austin Cup."
As members of a Winning Alliance and Captain of a Finalist alliance, both Silverbolt and Prime were guaranteed advancement to the Regional Tournament. Guardian needed things to break their way during the awards ceremony, where they won the Rockwell-Collins Innovation Award for the 3rd consecutive season and placed second for the PTC Design award. Along with being the 2nd pick of a division Finalist alliance, that was enough to advance them to the Regional Championship as well!
Unfortunately, Team Optimus' seven-year record of advancing to the Regional Championship ended on Saturday, but they will continue to work on their robot in preparation of a potential TAPPS competition later this year. And they will of course cheer on sister teams Prime, Guardian, and Silverbolt as they compete at the Regional Championship in San Antonio on February 23-25!