Campus News
All Four Iron Eagles Teams Advance to Regional Tournament
February 02, 2016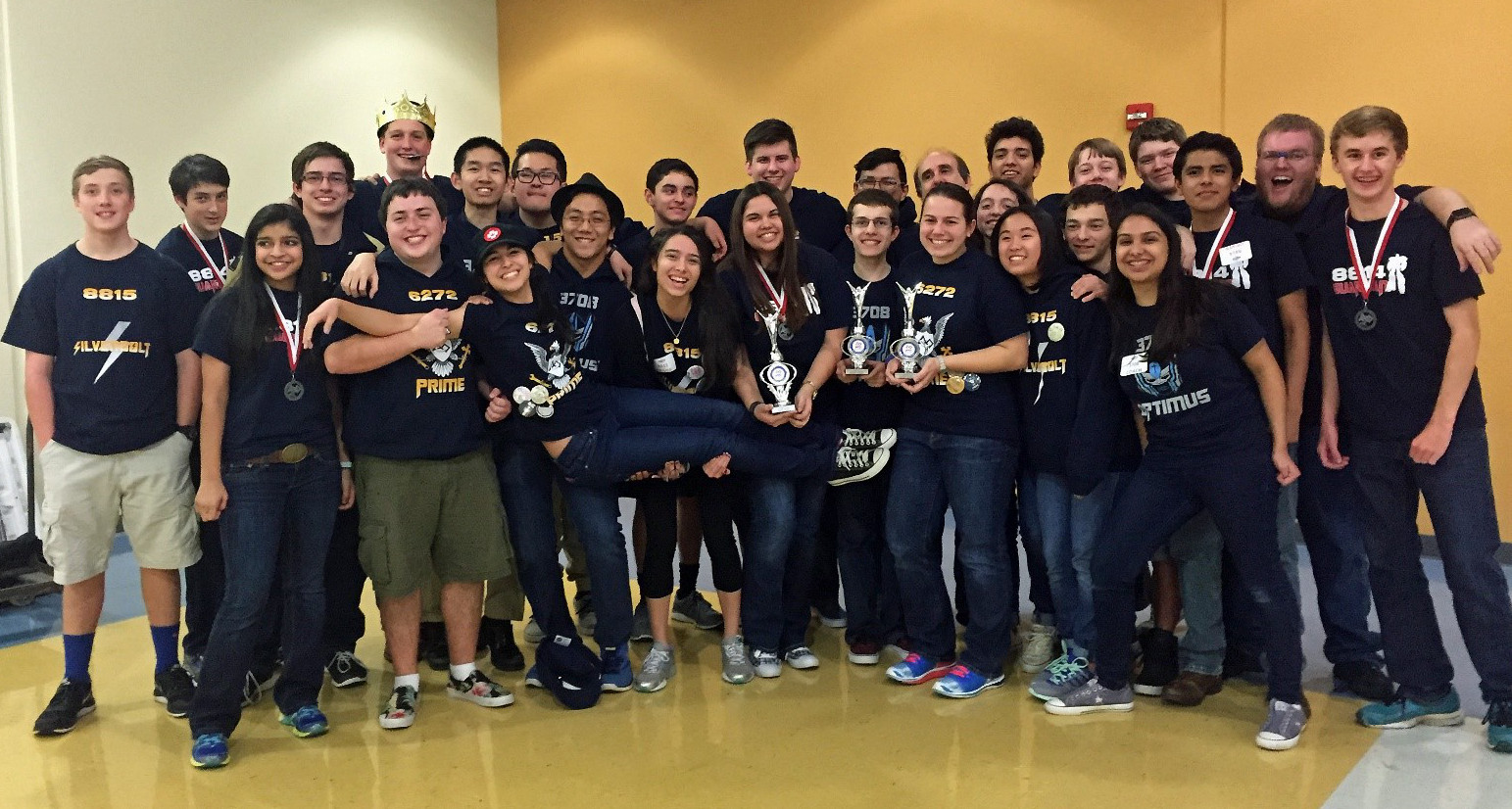 January was a critical month for all four Iron Eagles Robotics Teams competing in the FIRST Tech Challenge (FTC). After teams "Prime" and "Silverbolt" earned some early spots to the Regional Tournament during the first FTC Qualifying Tournament on Dec. 5, the program entered the new year with some urgency to advance their remaining two sister teams - "Optimus" and "Guardian."
Connally Qualifier – Jan. 16
The first tournament of the season for both Optimus and Guardian was held on January 16 at Connally High School. A flurry of building activity during the previous two weeks had resulted in promising yet inconsistent results for both teams, and they both struggled to find their footing during the tournament. Guardian opened with a narrow 1-point loss as they worked all day to complete the critical "robot hang" in the last 30 seconds of the match, which they finally accomplished in their fourth match of the day for a critical win against one of the best teams in the competition. Optimus started out with 3 straight losses (all by less than 20 points) before closing with two big wins and the 2nd and 3rd highest scores of the day!
Unfortunately, their game record left Optimus and Guardian in 15th and 17th place (out of 21 teams) after the qualifying rounds, but Guardian was actually selected by the 2nd place alliance captain (Viperbots Venom) to compete in the elimination rounds, as it was recognized that they were one of only 5 teams even capable of accomplishing the difficult and high-scoring "robot hang." Their 3-team alliance started strong, winning their semifinal match against the #3 alliance 2-0, but after a close loss in their opening finals match, they were closed out by the strong #1 alliance, consisting of St. Gabriel's SaberBots, Vandegrift's Viperbots Ourobouros, and Connally's Dark Horse.
Although Guardian made it to the Finals, the small number of advancement spots meant that both Guardian and Optimus needed to be one of the three finalists for the tournament's top honor, the Inspire Award, in order to advance. Guardian came very close, as they won the Innovate Award for the second year in a row and were the runner-up for the PTC Design Award – but they fell just short of advancing.
Vandegrift Double Qualifier – Jan. 30
So last Saturday's large "Double Qualifier" tournament at Vandegrift High School became a "do or die" moment for both teams, their final chance to advance to the Regional Tournament. A double qualifier is essentially two tournaments being held on the same day, so Optimus and Prime were split into one division ("Everest"), and Guardian and Silverbolt into the other ("K2").
The two weeks between tournaments were filled with frenetic activity by all teams – Prime worked on stabilizing their design and programming, Guardian worked to debug some mechanical problems that limited their consistency, Optimus created a secondary mechanism to help them climb and hang successfully, and Silverbolt was in the middle of a redesign to improve their scoring ability.
Both Prime and Guardian started out strong, posting 4-1 records to finish in the top four after qualifying rounds. Optimus also jumped out with two wins in their opening matches, but struggled to consistently score as they lost their final 3 matches. Silverbolt had a lot of fun while they worked hard to debug some of their brand-new mechanisms - some of which had only been installed the previous night! – before falling to a 1-4 record.
As the 3rd-ranked team in the Everest Division, Prime recognized that their sister team Optimus was extremely close to "putting it all together" in their matches, so they chose them as their alliance partner, transforming into "Optimus Prime" to fight for the championship. In the K2 division, 4th-ranked Guardian received an invitation to form an alliance with some old friends, the #1-ranked team "Disgruntled Robots," which they happily accepted.
Prime's bet on Optimus proved right, as Optimus finally succeeded in hanging their robot! Along with Prime, this powerful "double hanging" move was enough to sweep them into the finals 2-0 against the #2 alliance, while setting the 3rd highest score of the tournament! Celebration began immediately, as we knew that their finalist finish guaranteed that Optimus would advance. Unfortunately, in the finals, Optimus/Prime was unable to match the scores from their semifinals, and they fell in two straight games to the strong #1 alliance, led by Viperbots QuadX.
In the K2 division, Guardian's alliance split their first two semifinal matches before losing the rubber match by a mere 6 points: 104-98. While their overall tournament performance was impressive, their fate would now fall to the judges – like Prime and Silverbolt before them, they would have to be one of the top finalists for the Inspire Award in order to advance.
The award ceremonies started off promisingly, with both Optimus and Guardian being voted the runner-up for the prestigious Innovate Award, and Guardian placing 3rd for the PTC Design Award. And on the final award announcement of the night, they heard:
"This team really soared above the competition. With an impressive presentation and a tank-like design, they transformed our expectations of what they could achieve. Even in the face of adversity in the field they were able to hang in there. The First Place Inspire Award for K2 is presented to: Team 8814, Iron Eagles Guardian!"
And with that, the Iron Eagles became the only program in the Region (with two or more teams) to advance 100% of their program to the Regional Tournament thus far this season! This also marks the 7th straight season that the Iron Eagles have advanced all teams to the Regional Tournament – a terrific record of accomplishment!
Next step for the Iron Eagles – all four teams will again be scrambling to update and improve their designs for the challenging Regional Tournament, to be held in San Antonio on Feb. 20-21. Good luck Iron Eagles, and hang in there!