Campus News
Savio Swim Team Takes 2nd at Regional Meet
February 01, 2016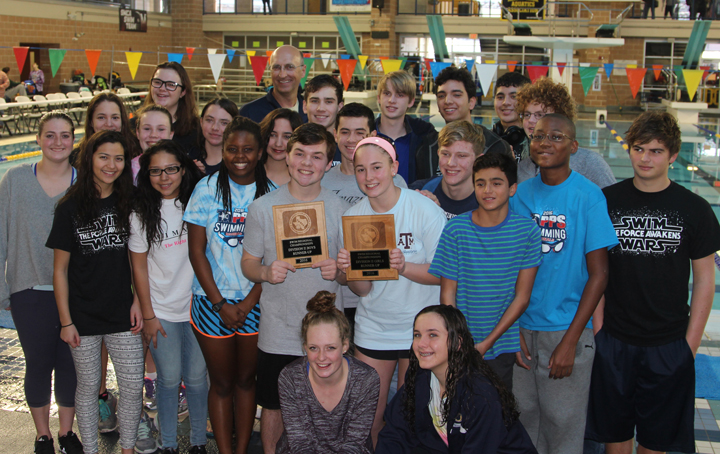 Despite having to overcome injuries, illness, practicing only 3/5ths as much as other teams, vacation time (taken from practice by some swimmers), and having our first overnight road trip in 4 years, the St. Dominic Savio Swim Team pulled together and performed remarkably well with both the Girls and Boys placing second in the Regional Championship meet on Jan 27. That is the highest placing in the 4 year history of the team.
At the meet, divisions 1,2 and 3 all swam together. So there were 27 teams that scored for women and 26 teams for the Men. If you look at the meet mobile results Savio men are ranked 3rd and Women 4th out of all 3 divisions! That means two division 2 teams are in the top 4 teams of division 1!
Division 2 Region Results. The number in (parenthesis) is the place. Top 8 finishes score points and letter. The top (3) finishers in bold automatically qualify for State.
Scores: TMI 132, Savio 99, St. Michaels 68 TMI 134, Savio 96, St. Michaels 89
Women Men___________________
200 Medley (2)Makenzi,Hannah,Kenndy,Natalie (4)Felipe,Kyle,Preston,Alec
200 Free Makenzi (5) Fletch(3), Sam (7)
200 IM Hannah(2), Teresa (7) Preston(4), Jacob(5), Kyle(8)
50 Free Natalie(1), Kennedy(8) Felipe(7)
100 Fly Kennedy(7) Preston(4), Fletch(5)
100 Free Natalie(1) Alec(5)
500 Free Anna(5), Teresa(7), Lauren(8) Sam(5), Jon(5)
200 F Relay (2)Hannah,Kennedy,Makenzi,Natalie (2)Felipe,Fletch,Preston,Alec
100 Back Makenzi(2),Anna(5) Felipe(3), Michael(7)
100 Breast Hannah(1) Alec(2), Kyle(5), Jacob(8)
400 F Relay (4)Anna,Catherine,Teresa,Elaine (3)Sam,Jon,Jacob,Fletch
Coach Chris contends that of the 3 regions in TAPPS, region 2 is the most challenging and doing well here bodes well for State.
Note: At State each division has their own swim meet. Division 3 swims Friday morning. Division 2 swims Friday afternoon and Division 1 swims Saturday morning.