Campus News
Savio Tennis Shines at State Tournament
April 17, 2015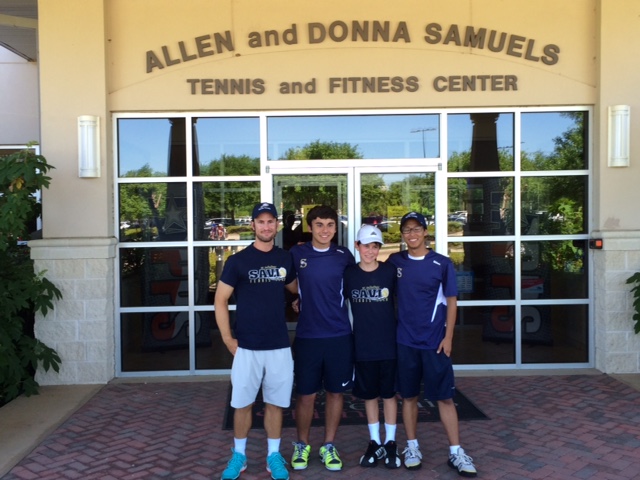 The Eagles Tennis team capped off an historic season competing in the TAPPS 4A State Championships this week.
The matches were held under beautiful court conditions in Waco, Texas at the Waco Regional Tennis Center on April 15 and 16. Four boys qualified and represented St. Dominic Savio in the tournament: Jacob Mink, Anthony Vento, Zac Ortiz and Peter Spangler. This is the first year Savio has sent more than one player to the state competition.
"The team, as a whole, has had such a memorable season, and our state qualifiers put the Eagles tennis program on the map," Head Coach Garrett Pekar said.
Jacob Mink, senior, played first for the team on the tennis center's stadium court. He lost 6-1, 6-2 to Ryan Ramos from Midland Christian School. The points and games in the match were much closer than the final score showed, and Mink even had a lead in the second set. He showed that he could control points against the strong-hitting Ramos.
Zac Oritz, senior, and Peter Spangler, junior, gave a terrific fight in their first round doubles match but lost 6-4, 7-5 to Erik Hjelm and Conner Payne of Grapevine Faith Christian School. The boys were highly complemented after the match by the opposing team's coach for their "sportsmanship and integrity" on the court.
Anthony Vento, sophomore, accomplished an outstanding feat at the tournament. He is the first Savio tennis player to win a match at the State Championships. Vento won a three-set match in his first round that tested both players endurance. He defeated Daniel Weedon of Tyler Grace Community School 6-3, 1-6, 6-2.
"Anthony had to swing the momentum back in his favor after the second set, which isn't an easy thing to do, but he kept his composure and finished the match with confidence," Coach Pekar said.
In the next round, Vento faced Aaron Mackie of Flower Mound Coram Deo Academy. The two players had some of the longest and most entertaining rallies of the tournament. Vento lost 6-0, 6-0, but he made Mackie earn every point.
"Once Anthony won his first round, I could see how much it boosted our players' confidence. Last year, state was new territory for us, and we were afraid we were outclassed. This year, we took a huge step forward to grasp the fact that we belong there," Coach Pekar said.
The competitive season may have come to a close, but the tennis team will still be volunteering for the upcoming Special Olympics Tennis Tournament at Balcones Country Club.
"The team has grown up a lot this year, both as players and as friends. I'm happy to be a witness to their development and the beginnings of a strong tennis dynasty at Savio," Coach Pekar said.