Campus News
Savio Track Impresses at BVU Invitational in Dallas
March 26, 2015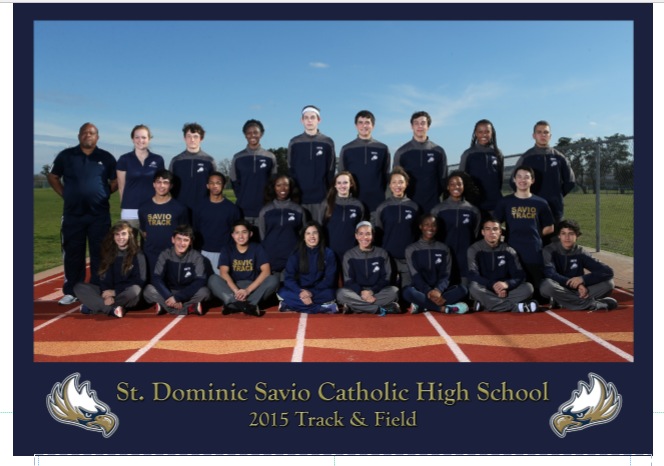 St. Dominic Savio's esteemed Track Team gave a strong showing at the Bradley V. Urschel Invitational in Dallas this weekend. The following athletes earned points for the Eagles:
Julian Sparks: 4th Place- 400m; 4th Place- 800m
Matthew Bianchi: 4th Place- 300m Hurdles
Boys 4x400m Relay
Julian Sparks, Stephen Hampton, Sam Alvarado, Matthew Bianchi- 2nd Place
Logan Blow: 1st Place High Jump
Alana McKendall: 2nd Place- 200m
Kacie Mayberry: 2nd Place- 400m; 1st Place- 800m
Angele Kelly: 4th Place Triple Jump
Girls 4x100m Relay
Christionna Hawkins, Alana McKendall, Angele Kelly, Stephanie Moses- 5th Place
Girls 4x200m Relay
Alana McKendall, Stephanie Moses, Angele Kelly, Ana Richie- 1st Place
Girls 4x400m Relay
Jennifer Ezuruike, Kacie Mayberry, Alana McKendall, Angele Kelly- 2nd Place
Overall:
Girls Team finished 4th
Boys Team finished 10th
of 24 Teams competing
Many more of our athletes gave very strong performances at this large meet but fell just short of the official top awards. Several personal records were bested, including some that are approaching new school records (and some that have already set new school records).....so stay tuned for updates to the record board!
Family support was high despite the long drive to Dallas, and parents in the stands report a predictable buzz when our athletes take the track ("Who are these kids? What is Savio? Where are they from?") Our athletes were repeatedly congratulated by other competitors with questions like "wow, what was your split?" and comments like, "I just love to watch you run."
Folks from all over Texas are certainly learning that the name St. Dominic Savio is synonymous with graceful competition and athletic excellence.