Campus News
Savio Students Attend Faith in Action Advocacy Day
March 25, 2015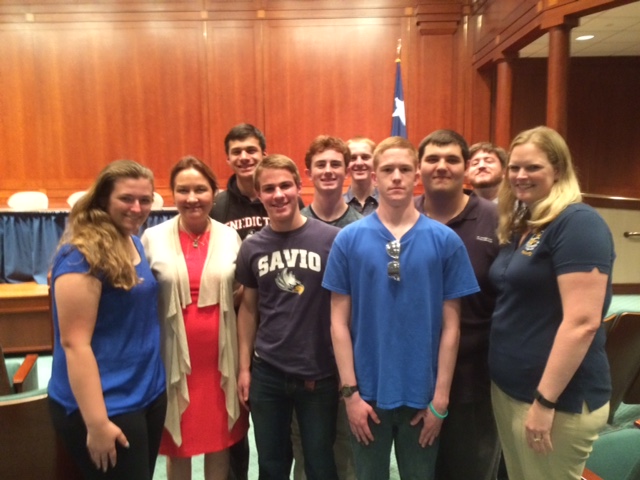 Mrs. Heyl and Mr. Jameson accompanied a group of Seniors to Faith in Action Advocacy Day at the State Capitol building on Tuesday, March 24. The event was a unique and wonderful first-hand experience of the intersection of faith and political participation.
Following an invocation by Cardinal DiNardo on the South Steps, Texas Bishops from El Paso to Beaumont to Brownsville addressed several hundred supporters on the Texas Catholic Conference's positions on upcoming legislative measures. Bishops took turns advocating Texan Catholic perspectives on end-of-life care, immigration, and education, among other topics. Students later attended a mock hearing on the subject of the death penalty in the Congressional auditorium, where they posed for an unannounced photo opportunity with the First Lady of Texas, Cecilia Abbott.
Of the Advocacy Day experience, senior Thomas Hurlimann said, "I really enjoyed it. I didn't know the Catholic Church's perspective on a lot of these issues. For instance, I didn't realize it had a position on pay-day loans. It taught me a lot."
Savio students will again be able to participate as concerned citizens and Catholics when Advocacy Day next occurs in 2017.