Campus News
Savio Track Qualifies Three Relay Teams into the Prestigious Texas Relays!!!
March 24, 2015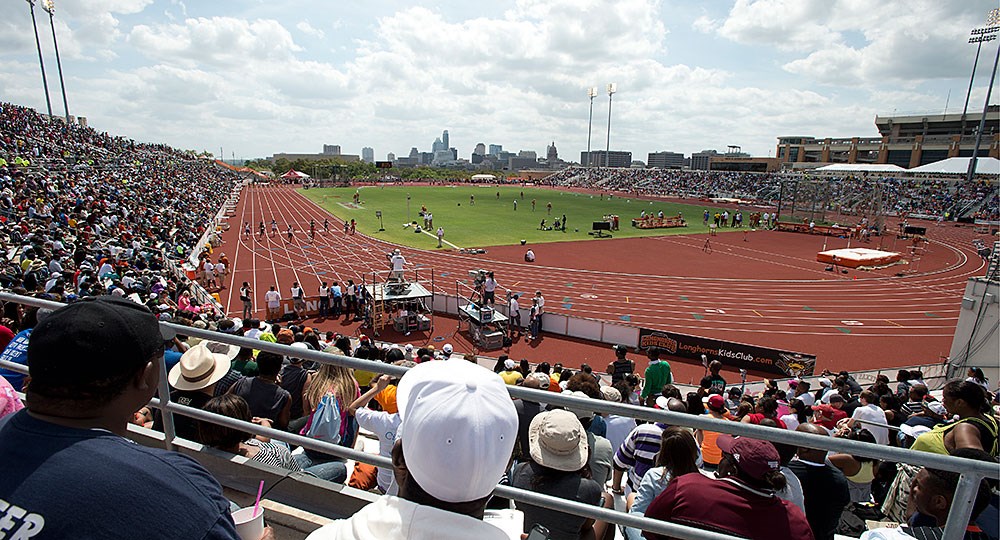 (The Texas Relays draw 50,000 spectators each year.)
In the words of Head Coach Leonard Brantley, "It is a great day for Savio Track....a very GREAT DAY!"
.....The announcement came just short of midnight this past Thursday night....while most of St. Dominic Savio's students were on Spring Break, the Track Team had been hard at work, attempting to do the unimaginable...qualify multiple relay teams into the world-famous, highly esteemed, Clyde Littlefield Texas Relays!! Our athletes put forth their best efforts against a field of Division II teams at the Cedar Ridge Qualifier on Saturday afternoon. Official times were snapped by the approved, Fully Automated Timing (FAT), photo-finish equipment...And, then the teams waited.
Late Thursday Night, lights remained ablaze in the homes of joyful Savio Track Families, as the word spread: the Girls 4x200m, the Girls 4x400m, and the Boys 4x400m had all qualified!!!! Congratulatory phone calls and emails from other teams arrived almost immediately. A lot of unrestrained whooping and joyous shouting was exchanged. It was a GREAT DAY indeed....
Twelve Savio Track athletes will be among the 5000 elite athletes from around the world selected to compete in the 88th running of the Nike Clyde Littlefield Texas Relays to be held March 27, 2015! They will share the stadium with Olympians, top-tier collegiate and professional athletes, and the high school elite. It will be... a GREAT DAY!
Please come out and cheer these teams to the fastest races of their lives.
Girls 4x200m: Alana McKendall, Ana Richie, Angele Kelly, Stephanie Moses, Jennifer Ezuruike (alternate)
Girls 4x400m: Jennifer Ezuruike, Ana Richie , Kacie Mayberry, Angele Kelly, Alana McKendall (alternate)
Boys 4x400m: Julian Sparks, Stephen Hampton, Sam Alvarado, Victor Martinez, Elias Sanchez (alternate)
Texas Relays, High School Prelims
Friday, March 27, 2015
1:30pm- Division I 4x200m
4:15pm- Division I 4x400m
Ticket Information can be found HERE

For Savio Track Fans unable to attend the event, your earnest prayers are appreciated. Please pray for the safety and fortitude of our runners, and, for our athletes and their families, pray this experience may fill their hearts with joy, strength, and gratitude. We are so very blessed!
GO SAVIO !!