Campus News
Class Schedule through Next Week
March 05, 2015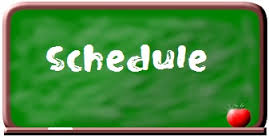 The following is the class schedule through next week:
Friday, March 6th, is an E Day, with dismissal at 3:10
Monday, March 9th, is an A Day.
Tuesday, March 10th, is a modified A Day with 60 minute classes, then Pi Day activities in the afternoon. Dismissal at 3:10.
Weds, March 11th is a Mass E Day
Thurs, March 12th is an A Day
Fri, March 13th is an E Day and the last day of the quarter.