Campus News
Savio Eagles Beat Austin Lanier for First Win of the Season
September 13, 2014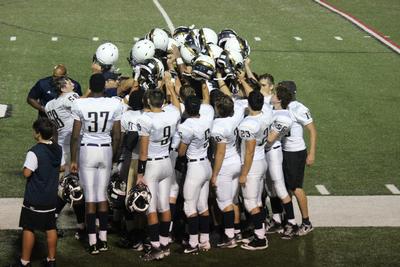 The St. Dominic Savio Eagles football team has been close in it's last two games, but Friday night's stormy opening against Austin Lanier provided the electricity the Eagles needed to beat the Vikings 41-31 to claim their first win of the 2014 season.
After three weather delays before the start of the game, the Eagles and Vikings immediately started the offensive fireworks. It appeared early it would be more of the same for the Eagles as Lanier jumped out to a 21-7 lead after the first quarter. However, the Eagles weren't to be denied as they answered in the second quarter with two scores of their own to tie the score 21-21 at half.
The Vikings opened the second half with a touchdown to take the lead 28-21, but the high-powered Eagle offense came storming back with two touchdowns to go up 34-28. The Eagle defense forced the Vikings to kick a field goal in the fourth quarter to make the score 34-31. But once again, St. Dominic Savio's ground-oriented attack produced another touchdown late in the game to make it 41-31 and ice the game for the Eagles. The Savio offense was led by senior Sam Alvarado's eye-popping 235 yards rushing and 5 touchdowns.
Next Friday the Eagles travel to St. Andrews.
GO SAVIO !!