Campus News
Outstanding Servant Leadership Award Presented
May 22, 2014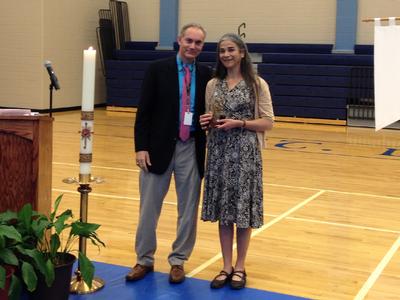 St. Dominic Savio was founded with the goal of forming servant leaders in the image of Christ. The best way this is learned is through the example of others. We are truly lucky to have many servant leaders among our faculty and staff.
The St. Dominic Savio Award for Outstanding Servant Leadership is presented to the faculty or staff member who has demonstrated outstanding servant leadership in all they do and it is voted on by the faculty and staff.
This year's recipient, Mrs. Veronica Camacho, has been a Savio volunteer, parent and employee for the five years of the school's existence. As the school librarian, she has been dedicated to building a library collection for 20 donated books to over 6,000 items, all done on a minimum budget with few resources. She has been a constant supporter of Savio's Catholic mission and has collaborated with teachers and staff to foster a challenging academic environment.
CONGRATULATIONS Mrs. Camacho!