Campus News
St. Dominic Savio Iron Eagles Robotics Team Falls in the Division Finals
April 26, 2014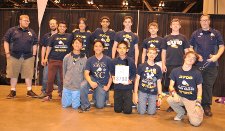 T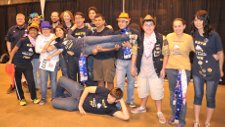 Optimus Prime
The Iron Eagles Cinderella season finally ended this morning. Iron Eagles "Optimus" demonstrated some excellent skill today, helping their alliance advance through the Edison Division semifinals (2-1) before falling 0-2 in the division finals at the FIRST Robotics World Championship in St. Louis. As a division finalist, they ended their season as a member of one of the top four alliances (12 total teams) in the world! Thanks to these dedicated students and their mentors for working so hard to achieve this major milestone for our program.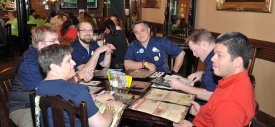 Mentors
A quick review of this season's accomplishments:

1) Vandegrift Qualifier - Iron Eagles "Optimus" and "Prime" join forces to win the first qualifier of the season.
2) Connally Double Qualifier - Both Optimus and Prime make their division semifinals, and Optimus earns 2nd place for the Inspire Award.
3) Alamo Regional - Prime is a member of the tournament winning alliance, and Optimus makes the division semifinals and wins the PTC Design Award. Both teams advance to the Super-Regionals.
4) South Super-Regional - Optimus is the #1 ranked team in the Bluford Division, and both teams advance to the tournament semi-finals and earn a trip to the World Championship. Only 10 Texas teams advance to the World Championship, and little St. Dominic Savio Catholic High School becomes the ONLY school in the state of Texas to have TWO teams advance!
5) World Championship - Optimus advances to the Edison Division finals, and Prime goes undefeated on the second day of competition. Optimus ends the season as the top-ranked team from the state of Texas!

We're so proud of the students in our Iron Eagles Robotics program and hope that they are having a great time in St. Louis! Safe travels home!