Campus News
Savio Girls Golf Team Competes in Regional Tournament
April 17, 2014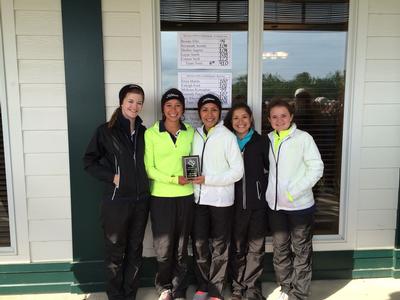 The Savio Girls Golf team participated in the TAPPS 4A regional golf tournament at Meadowbrook Farms Golf Club in Katy on Monday, April 14. The field consisted of the top eight teams from the South districts. The day started calmly with temperatures in the low 70's and a light breeze. The weather took a drastic turn midway through the tournament with the winds increasing to 25-30 mph and the temperature dropping into the low 50's with a light rain. The girls played through the weather until a two-hour rain delay. Play resumed with no rain but temperatures in the lower 40's with wind chills in the upper 30's.
Coach Becerra, "The girls were paired with some of the best players in our region and they responded by playing outstanding golf. Shelbie, Layne & Conner shot their best scores of the season with Savanah and Brooke playing some great golf. I am very proud of the girls."
The team was led by top 10 regional medalists Junior Brooke Ellis, Sophomores Savanah Acosta, Shelbie Sagnes, Layne Smith and Freshman Connor Neill.
The girls will compete at the State tournament on April 28 & 29 at Twin Rivers Country Club in Waco.
Good luck Lady Eagles!!