Campus News
Savio Track Team District Recognitions and Region Bound!
April 16, 2014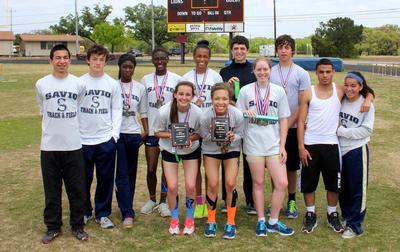 TAPPS District Track Meet on April 11 & 12, SAC San Antonio, TX.
With incredible performances by freshman, sophomores, last minute alternates and a couple of athletes overcoming illness and injury, here are the impressive results:
Alana McKendall- 3rd in 100m, 3rd in 200m, continues to Regionals

Alexis Phillips- 2nd in 200m, continues to Regionals

Stephanie Moses- 4th in 200m, continues to Regionals

Ana Richie- 3rd in 400m, continues to Regionals

Jennifer Ezuruike- 5th in 400m

Angele Kelly- 2nd in 400m, 3rd in Triple Jump, continues to Regionals

Sam Alvarado- 9th in 200m, 8th in 400m

Andres Uriegas- 9th in 1600m

Matthew Bianchi- 6th in 300m Hurdles

Sean Casey- 4th in Shot Put, 3rd in Discus, continues to Regionals
Cristian Cowley- 8th in Discus
1st Place 4x200m Relay Team:
Ana Richie
Stephanie Moses
Jennifer Ezuruike
Alexis Phillips
Continues to Regionals
1st Place 4x400m Relay Team:
Stephanie Moses
Alexis Phillips
Angele Kelly
Ana Richie
Continues to Regionals
Despite fielding only 6 athletes, the Savio Ladies Track Team earned an astounding 83 points, taking 3rd Place overall and topping the fourth place finishers by over twenty points. Every one of those ladies won points for the team in both their individual races and on relays.
The Regional track meet is on April 25 & 26 Awty International in Houston. Fans are certainly appreciated! Nearly half of our men's and women's teams, combined, are continuing to Regionals. Lets keep team spirit high and support all our athletes who are continuing on to regional competition!
GO EAGLES !!