Campus News
Junior Class "Retreat on the Street" an Inspiring Event for All
April 14, 2014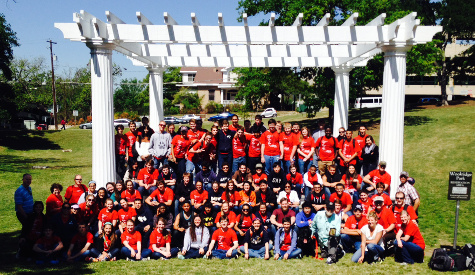 This past April 9-10, the Junior class of St. Dominic Savio Catholic High School spent the 20 hours of their annual class retreat learning from the homeless community of downtown Austin. Led by adults from the school, youth ministers from parishes all over the city, several deacons, a priest, associates from Mobile Loaves and Fishes (a local advocacy group), and a number of parent volunteers, these students hiked around downtown Austin carrying with them only a few basic necessities. They spent their time eating and talking with our brothers and sisters on the street, in addition to gathering together for prayer, Eucharistic Exposition and Adoration, and Mass. They were hosted by a multitude of churches and organizations including St. Mary's Cathedral, St. Austin's Catholic Church, Mobile Loaves and Fishes, and Feed My People.
The following are some student reactions to the experience:
"My favorite part of the retreat was listening to the stories of those who were homeless. They were actually able to teach me some things, like don't ever give up. What made an impression on me the most was those people's faith. The people who had the most reason to be mad at God were the people that relied on Him the most. It was very touching to me."
"At breakfast, I was eating with some other retreat members, when a homeless men came to our table and ate with us. It was a very good experience, and they talked about how they arrived there. One of them was a man making $50,000 a year, but lost it. Another was making good money, but had his car break down twice and then had to leave. It was surprising to me how something so little can change someone's life so greatly. What struck me was that throughout all of this, they believed in God."
"During the retreat, interacting with those I met made me feel that the homeliness community is very diverse, despite popular belief, and with that comes the fact that all those people on the street are individuals, and have their own story to tell. "
"I loved being able to talk to the people. At first I was nervous, but when we got to the Salvation Army area I was amazed how easy they were to talk to. I was struck by how easy it was to connect with them and by how welcoming they were."
"The whole retreat I felt a sense of peace. When I first started talking to them I enjoyed the feeling of connecting to them as people. It was so easy to see them as human beings, I had never realized I objectified them before."
"Because of this retreat, I feel a stronger call to serve others as Christ wants me to. I feel less afraid of service and less of a stereotype against homeless people. I think going forward from this retreat I will be able to serve others as my brothers and sisters in Christ and treat them with the dignity that they deserve."
"I felt as if I was helping them, but not necessarily in a physical way. I think that just listening to them tell their stories and share their life with us was us helping them. Many of those people do not get to share their stories with people that often, and this retreat was a chance for them to do just that."