Campus News
Savio Golf Teams Compete in District Tournament
April 09, 2014
The Savio Boys and Girls Golf teams participated in the 4A district tournament at Grey Rock Golf Club on April 8. The sky was clear, the temperature started in the 40's and eventually reached the upper 60's but the wind gusted between 15-20 mph throughout the day adding an additional variable to the already challenging course.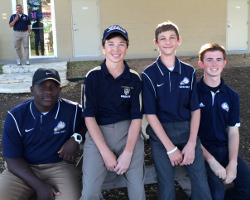 The Boys team was led by Sophomore Captain Clayton Knavel along with Sophomore Shane Hoelting, Juniors Gannon Nash & Bradley Musabika.

Our young men competed well and Coach Becerra Jr. added, "I am proud of all these young men and the golf season we just completed. They worked hard all year and made great strides. We look forward to a stronger season next year."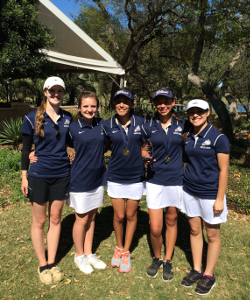 The Girls team fought hard the entire day and capped off the District Tournament by placing 3rd and qualifying for the 4A regional tournament next week at Meadowbrook Farms Golf Club in Katy. The team recorded one of their best scores all season with Junior Co-Captain Brooke Ellis medaling in 4th place and Sophomore Co-Captain Savanah Acosta medaling in 6th place along with great showings from Sophomores Shelbie Sagnes, Layne Smith & Freshman Connor Neill.
Coach Bacerra Jr., "The ladies have gradually improved all season and they set a goal to show well in district and qualify for regionals. They accomplished their goal and will be working hard to reach State. I am proud of how hard they've worked this season."
Congratulations to the Men on a fine season and good luck to the Lady Eagles at Regionals.
Go Eagles!