Campus News
Savio Baseball Remains Undefeated in District
March 30, 2014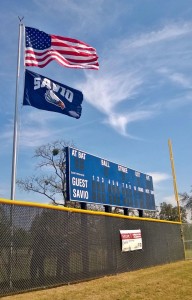 Coach's Recap:
"Savio baseball improved to 3-0 in district play and a 19-3 overall record with a 3-1 victory over Corpus Christi Incarnate Word. Dominic Kress recorded his 3rd win on the mound and Nick Zamora came in for the save."
"Savio scored early on a single to right by Tanner Martinez bringing in Nick Zamora. Tanner would later bring in a run on a suicide squeeze to give Savio a 2-0 lead. Nick Zamora would add the 3rd run by stealing home after stealing second and third. Savio held on with great defense behind their pitching."
"After the game Savio baseball attended mass at St. Williams Catholic Church in Round Rock as a team with the entire coaching staff. What an amazing experience and getting a standing ovation was pretty inspiring as all the boys were in their Savio mass uniform."
"Savio hosts Hyde Park Tuesday afternoon at 4:30pm for a battle of the only 2 remaining undefeated teams in district. Come out early and cheer loud and often!" - Coach Sloat
Soar Eagles!!!