Campus News
Savio's Christmas Concert Held December 7
December 13, 2022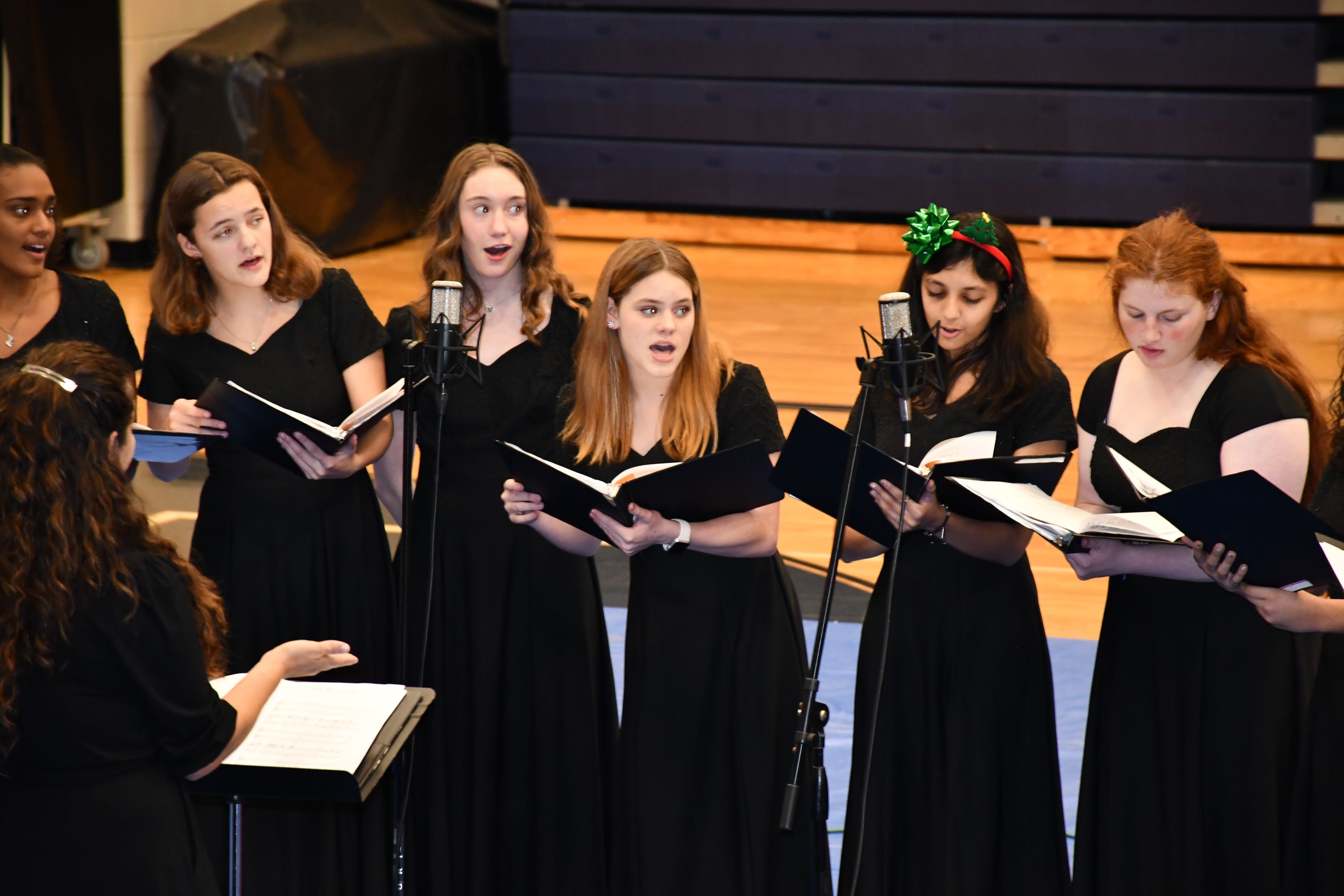 Families arrived early for the annual Christmas Concert at St. Dominic Savio Catholic High School on December 7, to get the best seat in the house!

Mr. Ronnie Stanford, Savio's Director of Music, was joined by Ms. Jaclyn Johnson, Choir Director, Ms. Michelle Pish, Accompanist, and students from the Applied Music Ensemble, Guitar, Jazz Band, Chamber Choir, Wind Ensemble, and Orchestra making for an unforgettable sound emanating from the school gym.

The Applied Music Ensemble kicked off the night with Christmas Mash-up and First Winter's Sleigh Ride, followed by Guitar, who strummed Jingle Bells, Greensleeves, and Angels, We Have Heard on High.
The Jazz Band took the stage to perform Winter Wonderland, followed by the Chamber Choir, who sang Sparklejollytwinklejingley, Gloria, Carol of the Bells, and Sing We All Noel, with a solo featuring Alfonzie Stepney. His voice illuminated the room!

Wind Ensemble gently delivered Jingle Bells Forever, with a solo by Makayla Leal, followed by A Winter's Carol and Scenes from The Nutcracker featuring soloist Mary Teal.
Mr. Stanford told the audience that several of the Savio musicians had applied to perform with the Texas Music Educators Association (TMEA) All-State Band and told the audience we should receive the news very soon. He did announce that he only found out a short time ago that cellist Taylor Cordill had made the band, which caught her by surprise.

The Savio Orchestra, including Soloists Taylor Cordill and Helene Chaumont, performed O Holy Night, A Charlie Brown Christmas, and Christmas Eve Sarajevo 12/24.
For the combined Choir and Orchestra combined performance, Santa and Bosco joined in the fun for an all-family Christmas Sing-a-Long and Sleigh Ride, and were joined by a few alumni who brought their instruments back to school for the night.