Campus News
2019 Fall Play
November 18, 2019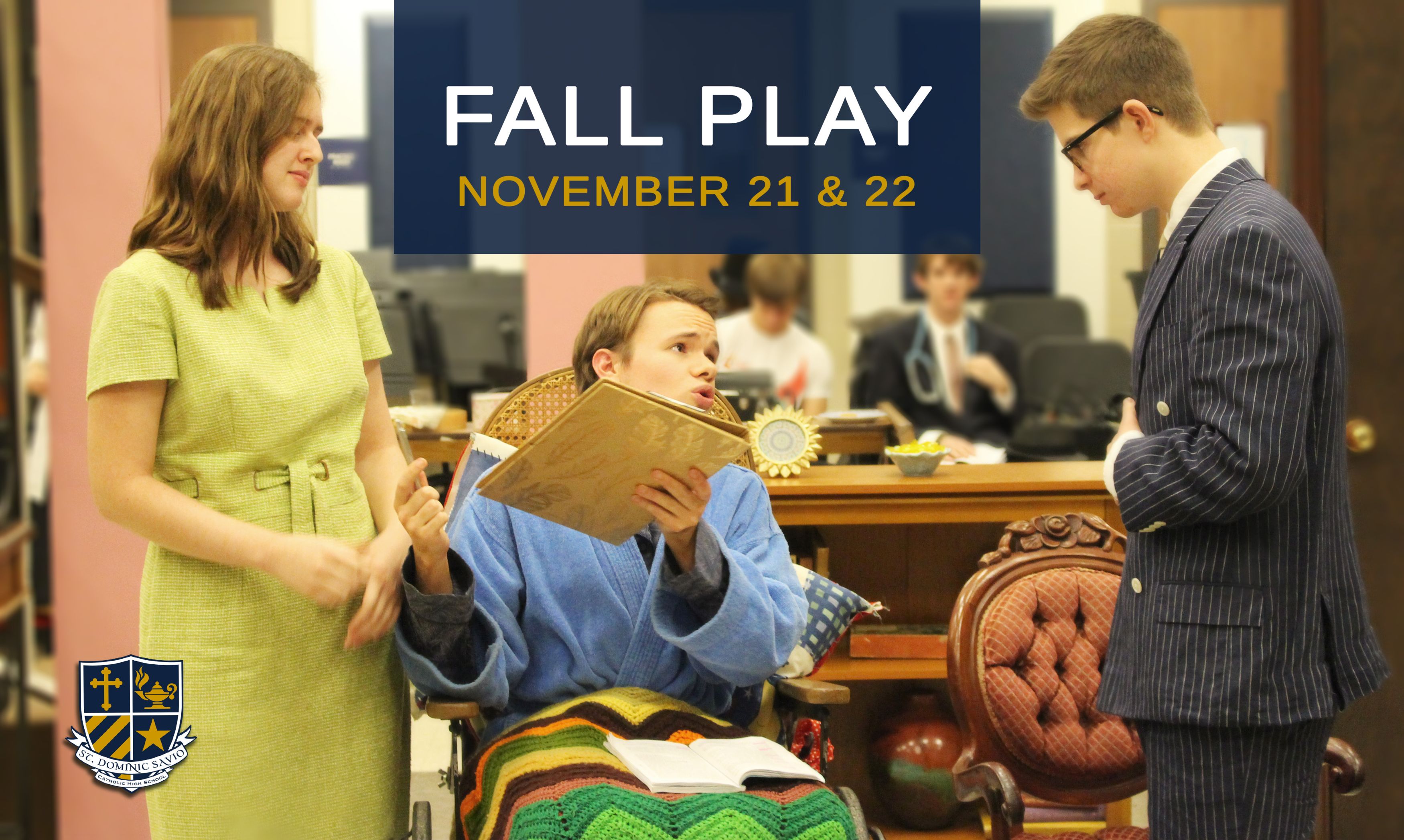 Save the date on Thursday, November 21 and Friday, November 22 at 7:00 PM, St. Dominic Savio will be performing the fall play, The Man Who Came to dinner: a Hilarious Play in three Acts. Tickets are $5.00 each, cash and credit cards will be accepted! We hope to see you there!
The Cast
Mrs. Ernest W. Stanley: Erin Regan
Miss Preen: Lily Hallum
Richard Stanley: Adrian Gonzales
June Stanley: Abigail Staebel
John: Noah Aziz
Sarah: Mikey Bacon
Mrs. Dexter/Singer: Evangelina McCabe
Mrs. McCutcheon/Singer: Gabriella Zavala
Mr. Stanley: Michael Meeks
Maggie Cutler: Kristen Leary
Dr. Bradley: Ryan Ranc
Sheridan Whiteside: Sasha Falch
Harriet Stanley/Singer: Madalynne Myrick
Bert Jefferson: Noah Fox
Professor Metz: David Mackowski
Mr. Baker/Radio Tech/ Officer/Expressman: John Paul Sustaita
Michaelson/Westcott/Deputy/Expressman: Elijah Velez
Lorraine Sheldon: Keira Regan
Sandy/Expressman/Convict/Radio Tech: Juan Pablo Basualdo
Beverly Carlton: Alfonzie Stepney
Banjo: D.J. Bolin
Thank you to Mrs. Joyce Mink and Mrs. Annemarie Weis for leading and directing the show!
About the Show
The Man Who Came to Dinner is about a Witty, acerbic, famous radio personality, Sheridan Whiteside, who visits the home of prominent Mr. and Mrs. Stanley on a radio tour through Mesalia, Ohio.
When Sheridan Whiteside slips on the ice in front of the Stanley's home, he is forced to convalesce at their home for the better part of December. Taking over the entire house, Whiteside hosts a slew of friends and acquaintances, accepts numerous uncommon gifts, and bans the Stanleys from using their own telephone. When his secretary falls in love and decides to stay in Mesalia, Ohio to get married, Whiteside hatches a hilarious plan to thwart her. When his plan goes awry, Whiteside must rely on ingenuity, a good memory, and luck to resolve the problem, showing that he does, after all, have a heart, albeit a small one.
--
St. Dominic Savio Catholic High School is located in northwest Austin, Texas, in an active and thriving community. Savio is a college preparatory school, to prepare young men and women to become faith-filled, visionary and inspirational leaders in service to the Church and the world. St. Dominic Savio offers a faith experience that encourages students to reach their full potential as caring, conscientious, and moral servant leaders. The vision is Forming Servant Leaders in the Image of Christ. For any questions, please contact the Director of Communications, Ms. Cristina Mares, by email: cmares@saviochs.org.