Campus News
Parent Formation Night
November 05, 2019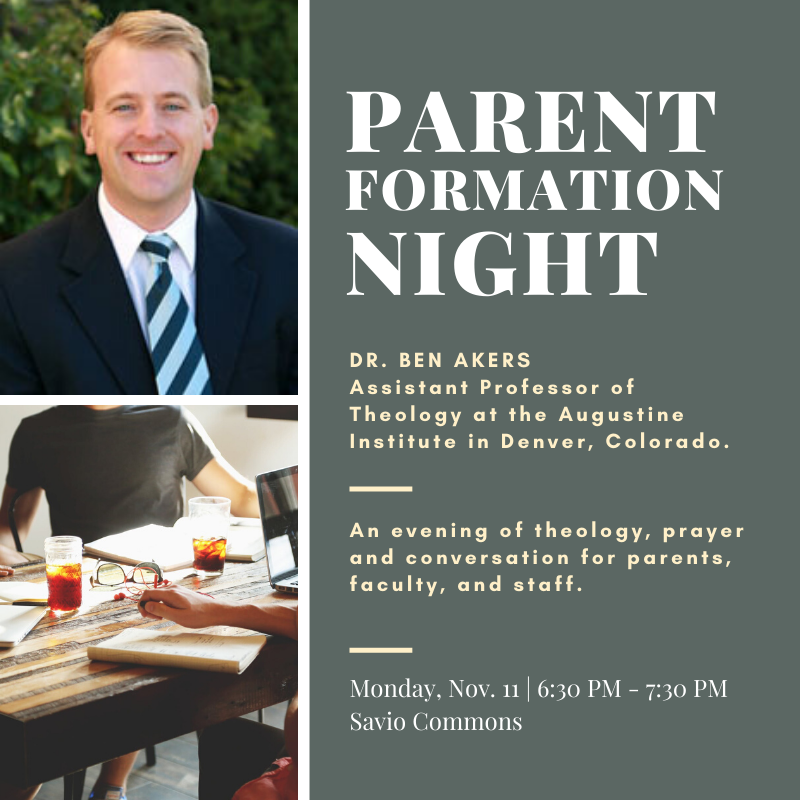 Please save the date for Monday, November 11, 6:30 PM - 7:30 PM in the Commons. All parents, faculty, and staff are invited to attend an evening of theology, prayer, and conversation about the topic: "Why people leave the Church and how to bring them back."
About the Speaker
Dr. Ben Akers is an Associate Professor of Theology and Associate Dean at the Augustine Institute in Denver, Colorado. He served for six years as the Director of the Denver Catholic Biblical School and Catechetical School in the Archdiocese of Denver helping grow it into the largest and most comprehensive diocesan Bible Study program in the United States. He has also taught as an adjunct instructor at St. John Vianney Theological Seminary and St. Francis School of Theology. He obtained a Master's degree in Scripture while working as a campus missionary for FOCUS at the University of Denver and the University of Colorado (Boulder) (2001-2004). He went on to study and work in Rome, Italy directing a study abroad program for Christendom College. While in Rome, he obtained a License degree in Sacred Theology (STL) from the Pontifical University of St. Thomas Aquinas (Angelicum) where he also earned his doctorate in Sacred Theology (STD). He and his wife Heather are blessed with three wonderful daughters and two sons.
--
St. Dominic Savio Catholic High School is located in northwest Austin, Texas, in an active and thriving community. Savio is a college preparatory school, to prepare young men and women to become faith-filled, visionary and inspirational leaders in service to the Church and the world. St. Dominic Savio offers a faith experience that encourages students to reach their full potential as caring, conscientious, and moral servant leaders. The vision is Forming Servant Leaders in the Image of Christ. For any questions, please contact the Director of Communications, Ms. Cristina Mares, by email: cmares@saviochs.org.