Campus News
Students Repeat TAPPS State Championship for the Second Time
April 23, 2018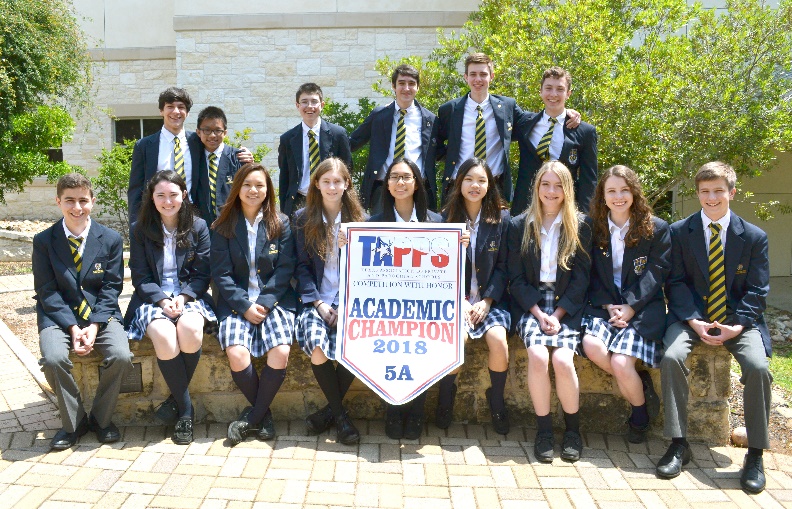 This year, fifteen St. Dominic Savio Students competed in the TAPPS State 5A Championship. On April 12, 2018, St Dominic Savio students returned home as state champions for the second year in a row. Students competed in nineteen events ranging from Writing, Spelling, Current Events, Humanities (Poetry interpretation, solo and duet acting, Prose interpretation, and persuasive speaking), and Mathematics (calculator, number sense, advanced mathematics, and science). All fifteen students competed against 22 schools in the state of Texas.
Points were awarded each time as students placed in the top eight at the state level. This year, Savio had eleven students win a total of nineteen medals. Savio students received the total number of points as well as highest number of medals. Savio students won 106 points overall, 10 points above second place, exceeding all 21 other schools.
This year's team results, included many firsts for the school. For the first time in school history students placed in six additional events than last year. They were poetry interpretation, prose interpretation, original oratory, duet acting, social studies, current issues and events. A number of underclassmen performed extremely well, indicating a strong potential for future years to come.
The individual winners and their placements are highlighted as follows:
Adrian Gonzales: Original Oratory (5th place)
Catherine Hermansen: Prose Interpretation (6th place)
Beatrice Hoang: TAPPS Math (2ndplace), Number Sense (2nd place), Calculator (2nd place)
Ben Hoang: TAPPS Math (3rd place)
Caitlin McCauslin: Poetry Interpretation (6th place)
Caitlin McCauslin/Michael Snyder: Duet Acting (4th place)
Michael Meeks: Ready Writing (6thplace), Social Studies (8th place)
Matthew Meskill: Advanced Math (3rd place)
Catherine Miri: Spelling (3rd place)
Brendan Miles: Current Events (10th place)
Rachel Nguyen: Prose Interpretation (4th place)
Jonathan Shoemaker: Advanced Math (1st place), Number Sense (1st place), Calculator (1st place), Science (2nd place) with the Top Chemistry award, Current Events (7th place), and the Top Overall Scorer Award.
###
St. Dominic Savio is located in Northwest Austin, Texas (9300 Neenah Avenue, Austin, TX 78717), in an active and thriving community. St. Dominic Savio is a college preparatory school founded by the Diocese of Austin in 2009, to prepare young men and women to become faith-filled, visionary and inspirational leaders in service to the Church and the world. St Dominic Savio offers a faith experience that will encourage all students to reach their full potential as caring, conscientious, and moral servant leaders. The vision is "Forming Servant Leaders in the Image of Christ." For any inquiries, please contact the school President, Dr. Joan Wagner or Mrs. Cristina Almanza (calmanza@saviochs.org), the Director of Communications at 512-244-4811.