Campus News
Savio Tennis Triumphs at District Tournament
March 24, 2016
The heat was brutal and the winds were biting, literally 20 miles an hour, but the tough conditions were no match for the Eagles Tennis Team.
On March 22-23, St. Dominic Savio hosted the District Tournament for the first time at their home courts at Cimarron Hills Country Club. St. Michael's Catholic Academy, Regents School, and Hyde Park Baptist School were all in attendance.
Playing for the eagles were Peter Spangler, Nick Butler, Grant Nolette, and Patrick Miles in boys doubles, Bo Valko and Trevor Staebel in boys singles, Andrea D'Mello, Thanh Tran, Emily Shoemaker, and Sierra Martinez in girls doubles, and Allison Meskill and Isabel Helal in girls singles.
The team had a terrific tournament overall! The players displayed the utmost sportsmanship and respect to the opposing schools and supported their teammates through narrow wins and losses.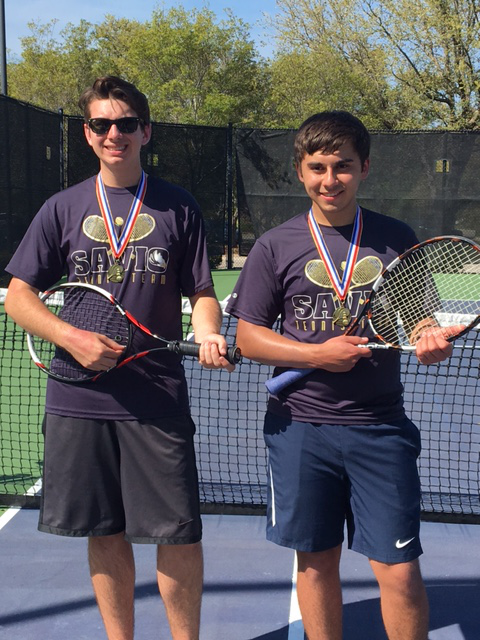 Peter Spangler, senior, and Nick Butler, junior, claimed the District Boys Doubles 1st Place title in stunning fashion. They won a close 3-set match by remaining calm under pressure. Spangler is a repeat district champion, the first in Savio history, having won the title last year with Zac Ortiz.
Roberto "Bo" Valko won the 2nd place title in District Boys Singles in a hard fought match with last year's defending champion, Jennings Inge from St. Michael's Academy. Two of Savio's players faced and lost to Inge at last year's tournament, but Valko took the most games from the top seed out of all our players combined. He played a very tough match, both mentally and physically, to lose 6-1, 6-3 in the final.
Allsion Meskill, senior, won the District Girls Consolation first place title against teammate and fellow Eagle, Isabel Helal, freshman. Meskill and Helal have had a competitive history with Helal beating Meskill for the 3rd place title at the Pre-District Tournament this year. The girls had a very good match again and remained friends after the dust settled. Meskill won 6-2, 6-0.
Spangler and Meskill have been on Varsity Tennis all four years at St. Dominic Savio. With the inaugural tennis season beginning in 2013, this is the first year anyone could conceivably accomplish such a feat. The two have always been fierce competitors on court, hard workers in practice, and team leaders off court. That is why Meskill and Spangler were team captains this year.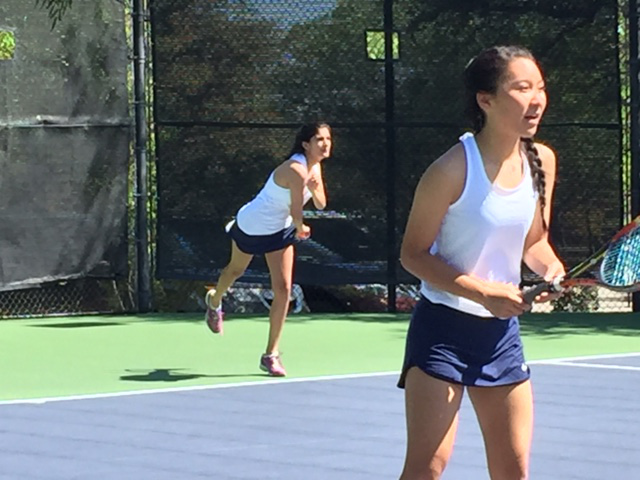 <-- Andrea D'Mellow serves while team mate Tuanh Tran waits for the return
Grant Nolette and Patrick Miles battling the doubles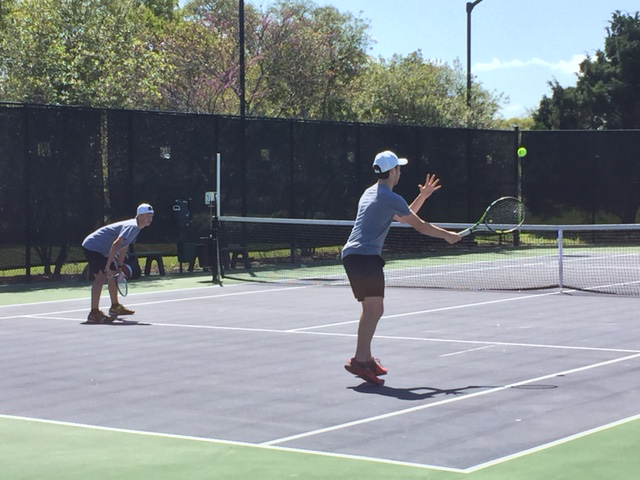 team from St Michaels (shown). --->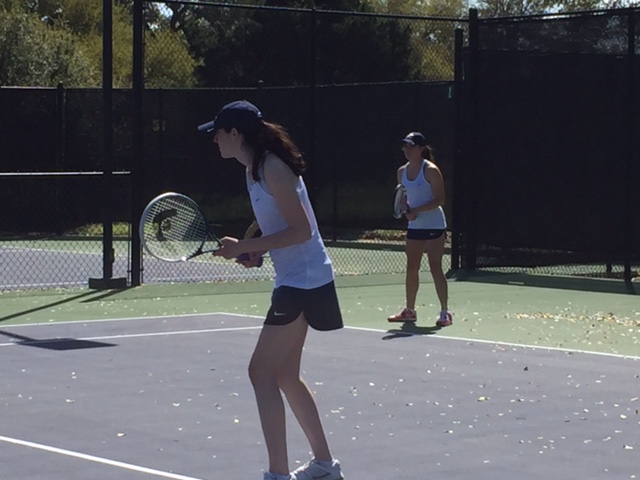 <---- Sierra Martinez and Emily Basquez face off against St Michaels in the District Tournament.

Coach Pekar would like to thank Coach Florez, Coach Clark, Mr. Daniels, and all the players parents for their support and assistance during the tournament. It could not have been accomplished without them.
Spangler, Butler, and Valko are now on to the State Tennis Tournament. Come support them on April 11-12 at the Waco Regional Tennis Center.
GO SAVIO!!