Campus News
Savio Girls Basketball District Champs!
February 16, 2016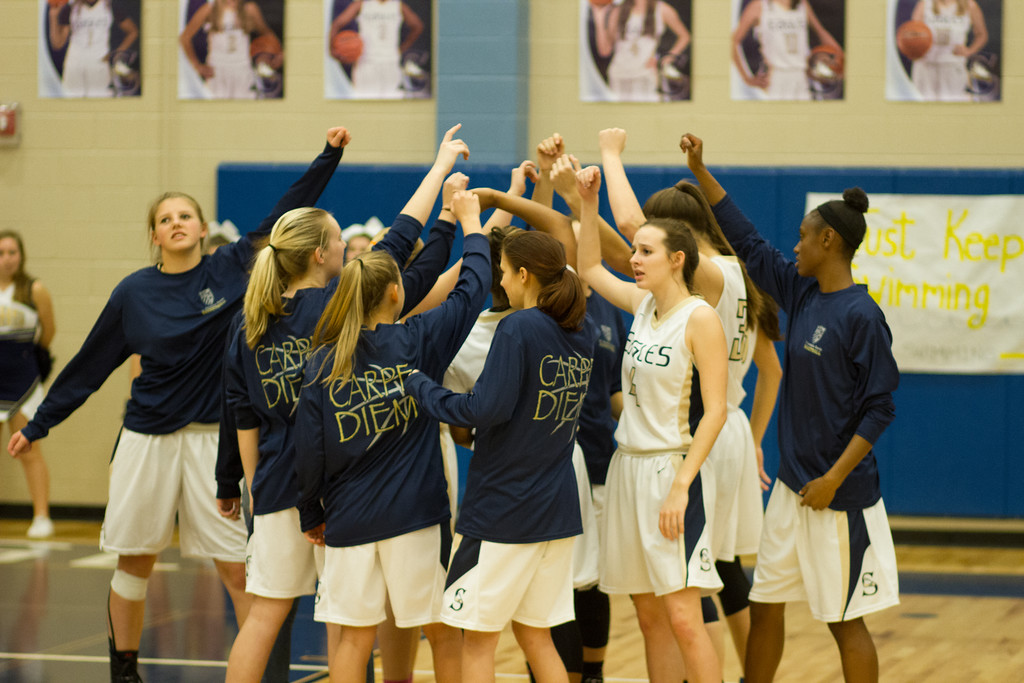 The Savio girls basketball team started off the week of February 8th confident and ready for two tough games against the 3rd place team Saint Michael's and the 2nd place team Regents. On Tuesday, against a well coached St. Michael's, the Lady Eagles fell short 3 points after coming back from a 10 point deficit. Despite the loss, the girls still had a chance to win district if they won the game on Friday.
Led by senior captains Stephanie Moses, Christionna Hawkins, Ashton Bailey, Sarah Greiner and Allison Meskill, the girls responded by having two energetic practices with extreme focus to lead them into Friday's game against Regents.
On Friday night, the girls came out slow and started the game down 2-10. After pressuring Regent's best player, the girls were able to regain the lead by outscoring Regents 20-10 in the 2nd quarter. Outstanding defensive performances by Christionna Hawkins (6 steals), Angele Kelly, and Stephanie Moses (4 steals) gave the team the energy they needed to come out on top. Stephanie Moses and Angele Kelly also led the team in scoring categories. Stephanie scored 21 points shooting 42% from the 3 point line and Angele went 2-2 from the field and shot 62% from the free throw line. The posts also played important roles with Maddie Miksch securing 8 rebounds, Caleigh Johnson with 6, Angele Kelly with 6, and Victoria Bird with 5.
Along with all of the great statistics that helped lead the girls to their district championship, the girls played with great sportsmanship and teamwork. One thing that is great about the Savio Lady Eagles is that they are unselfish and truly care about each other and about what is good for the team. That is something that means more than wins and losses and makes me very proud to be their coach.
The girls' first playoff game will be played as a double-header with the boys basketball team on Tuesday February 23rd at the Savio gym. Please come and show your support for the first time district champions!