Campus News
Savio Track Breezes Past District Competition, 17 Athletes Continue to Regionals
April 23, 2015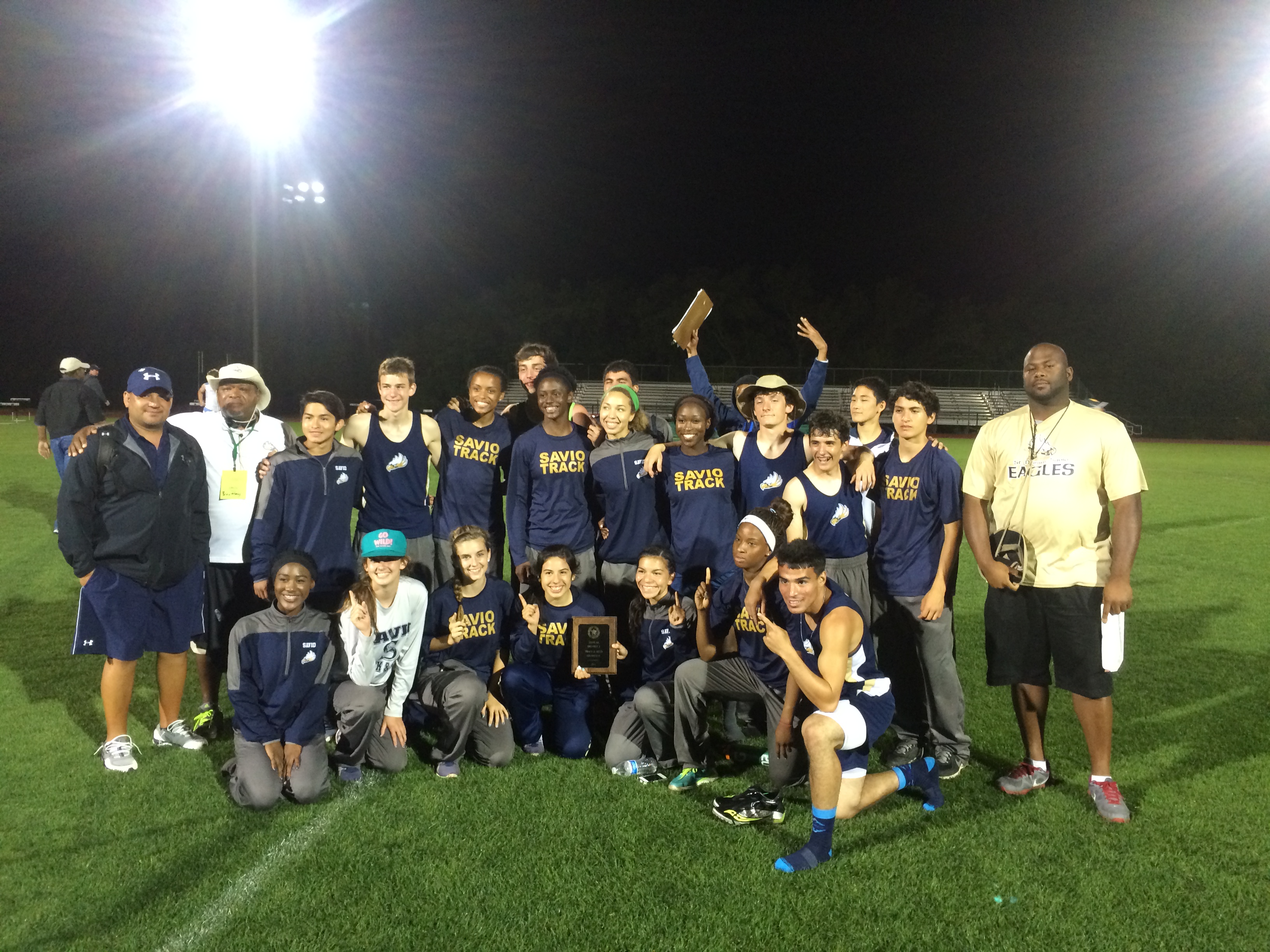 The Savio Track Team blew through the District competition at St. Michael's like a passing train. Our athletes placed in every event they entered and seventeen of them placed highly enough to continue through to Regional Competition next week in San Antonio. It was history in the making as the Girls Team took home the school's first-ever District Win in Track and Field!!

Months of commitment to training were evident as athletes performed at their highest levels of the year. From seasoned upperclassmen to young "up-and-comers", the strength of our athletes' heart, drive, work ethic, and positive spirit shone all across the event.
Parents, coaches, and administrators in attendance were bursting with pride in our team. Fans gathered around every field and running event and throughout the stadium the navy and gold numbers of the Savio Track community generated good vibes and loud cheering! Even the rain didn't dim the festive spirits of our team and its supporters.
Great sportsmanship was displayed as well, as our athletes joyfully greeted competitors from other teams, shared warm visits with St. Michaels students, politely and confidently conversed with coaches and parents from other schools, and invited competing teams to join in their evening prayer. Our students represented themselves and their school with class and character.
And the best news is, there is more to come!!!

Here are the top finishers from each event:
Men's Results:
200m: Stephen Hampton 4th*
400m: Julian Sparks 3rd*
Victor Martinez 5th
800m: Julian Sparks 3rd*
1600m: Joseph Prybyla 6th
110m Hurdles: Matthew Bianchi 3rd*
300m Hurdles: Matthew Bianchi 4th*
4x200m Relay: Sammie Alvarado 3rd*
Elias Sanchez
Stephen Hampton
Victor Martinez
4x400m Relay: Julian Sparks 3rd*
Stephen Hampton
Sammie Alvarado
Victor Martinez
Shot Put: Sean Casey 1st*
Discus: Sean Casey 1st*
High Jump: Michael Phillips 2nd*
Logan Blow 3rd*
Long Jump: Victor Martinez 4th*
Matthew Bianchi 6th
Triple Jump: Matthew Bianchi 6th
Ladies Results:
100m: Alana McKendall 2nd*
Arriana Islas 6th
200m: Alana McKendall 2nd*
Stephanie Moses 4th*
Ana Richie 5th*
400m: Kacie Mayberry 1st*
Angele Kelly 2nd*
Jennifer Ezuruike 5th
800m: Kacie Mayberry 1st*
Andrea Alvarado 5th
1600m: Andrea Alvarado 2nd*
100m Hurdles: Melanie Shempert 1st*
300m Hurdles: Melanie Shempert 1st*
4x100m Relay: Christionna Hawkins 3rd*
Angele Kelly
Arriana Islas
Melanie Shempert
4x200m Relay: Alana McKendall 3rd*
Ana Richie
Stephanie Moses
Christionna Hawkins
4x400m Relay: Stephanie Moses 1st*
Jennifer Ezuruike
Angele Kelly
Kacie Mayberry
Shot Put: Christionna Hawkins 2nd*
Discus: Christionna Hawkins 3rd*
Long Jump: Stephanie Moses 4th*
Triple Jump: Angele Kelly 1st*
"I press on towards the goal to win the prize for which God has called me in Christ Jesus." Philippians
3:14
Savio Track.....on the way to Regionals!!!