Campus News
Savio Track Enjoys Success at St. Andrews School Relays
March 09, 2015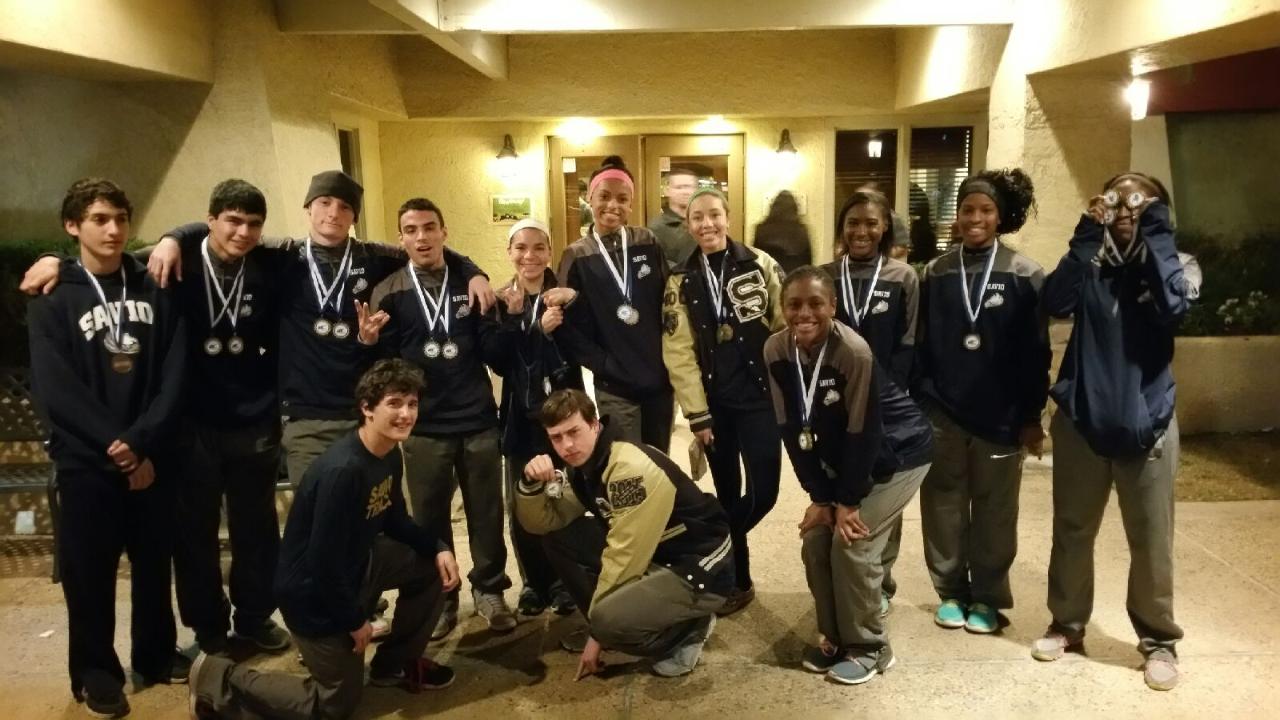 Varsity Girls
100m: Alana McKendall 5th Place
400m: Jennifer Ezuruike 3rd Place; Ana Richie 8th Place
800m: Kacie Mayberry 2nd Place
300m Hurdles: Melanie Shempert 4th Place
4x100m Relay: Christionna Hawkins, Alana McKendall, Angele Kelly, Stephanie Moses; 3rd Place
4x200m Relay: Angele Kelly, Alana McKendall, Melanie Shempert, Stephanie Moses; 1st Place
4x400m Relay: Kacie Mayberry, Jennifer Ezuruike, Angele Kelly, Ana Richie; 1st Place
4x800m Relay: Kacie Mayberry, Jennifer Ezuruike, Angele Kelly, Ana Richie; 1st Place
**Varsity Girls Overall 3rd Place Winners!!
Varsity Boys
200m: Stephan Hampton 8th Place (tied)
400m: Victor Martinez 8th Place
800m: Julian Sparks 8th Place
4x400m Relay: Victor Martinez, Julian Sparks, Sam Alvarado, Elias Sanchez; 3rd Place
4x800m Relay: Julian Sparks, Cristian Cowley, Sam Alvarado, Victor Martinez; 2nd Place
Shot Put: Sean Casey 5th Place
Discus: Sean Casey 1st Place
**Varsity Boys Overall Finish 7th.....not bad for a partial team!!
JV Girls
400m: Andrea Alvarado 5th Place
800m: Andrea Alvarado 3rd Place
1600m: Andrea Alvarado 6th Place
JV Boys
400m: Elias Sanchez 6th Place
Long Jump: Elias Sanchez 8th Place
Stephen Hampton wins the "Fighting Purple Heart Award" for an outstanding effort/lean at the finish of the Varsity Boys 200m (8-9th Place tied time!!) that left remnants of Stephen across several feet of lanes 3 and 4.
The Track Team wishes to send thanks to an excellent group of supportive parents for long hours of photography, incessant cheering, food, beverages, blankets, and more! You are the best!
We joyfully anticipate the arrival of our remaining team members, absent due to their valiant run at a Basketball State Championship. Congratulations on an amazing season! We are so happy to have you join forces with us this week! Go Eagles!