Campus News
Eagle Football Rolls to Fourth Straight Win
November 02, 2014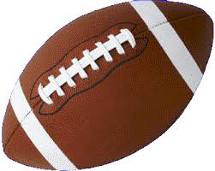 St. Dominic Savio rolled to its fourth straight win on Friday as they shut out San Marcos Academy 28-0 in San Marcos.
The Eagles completely shut down an SMA Bears offense that had scored 60 points the previous week. Led by seniors Josh MacKay, Bradley Musabika, and Sean Casey the Savio defense held the Bears to under 150 total yards on the night.
Offensively the Eagles powerful rushing attack continued to grind out yardage being led once again by senior Sam Alvarado. Alvarado rushed for 123 yards to push his season total to over 1,000 yards. Senior Spencer Supnet also had a big night running the ball.
The usually ground-oriented Eagles also proved they could strike quickly through the air as junior quarterback John Richard Flores teamed up with freshman wide receiver Mark Lacayo for a touchdown, and senior wingback Brian McNaughton for a score.
This Friday the Eagles will play their final game of the season at home against St. Stephen's Episcopal School on Senior Night. Game time is 7:30 at McNeil High School.
GO SAVIO !!