Campus News
Iron Eagles Robotics Advances Both Teams to FIRST World Championship
April 04, 2014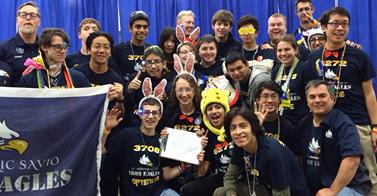 On February 27-28, both Iron Eagles robotics teams went to San Antonio to participate in the inaugural FIRST Tech Challenge Southern Super-Regional Championships. This event brought the 72 best FTC robotics teams from 12 southern states to compete for a spot in the FIRST World Championship.
Iron Eagles "Optimus" went undefeated (6-0) in the Bluford division to enter the finals as the #1 ranked team. In the Ochoa division, after a rough first day that saw them lose two matches by just 10 points, Iron Eagles "Prime" came back strong on the second day to win their final two matches and finish 3-3. While ranked only 19th in their division, their game performance made a big impression on other teams, and Prime was selected by the 3rd ranked team to join their alliance for the elimination rounds.
Both teams played well, but their alliances lost in the division semifinals. But by making it to the elimination rounds, both Iron Eagles teams qualified to advance to the World Championship in April! This is an extraordinary achievement, as only 10 teams from Texas advanced, and St. Dominic Savio is the ONLY school in Texas to send two teams to the World Championship. In addition, the amazing strength of the Central Texas region was demonstrated at the tournament, as six teams from Austin advanced to the World Championship – equaling the number of teams advancing from the entire state of Florida!
The Iron Eagles are now turning their sights towards raising the funds needed to travel to the World Championship in St. Louis for the third time! Last year, Iron Eagles "Prime" finished 7th in their division at the World Championship, and both teams look forward to improving on that performance.