Accolades
ACAdemic Accomplishments
Class of 2017 Accomplishments
Savio had a total of 99 graduates in the Class of 2017, which is the largest graduating class at Savio. In 2017-2018, they will be attending 54 different universities and colleges.
Collectively the 2017 graduates received a total of $9.8 M in scholarship awards.
Collectively, the 2017 graduates served over 10,500 hours of community service.
A total of 18 students received National Merit Recognition
The Class of 2017 completed 186 AP exams.
11 students completed the Project Lead the Way Pathway in Engineering by taking at least four Engineering and Computer Science Courses.
24 regional awards and 1 national gold medal in the Scholastic Art and Writing Competition was earned.
The class of 2017 had a role in winning four state titles this year in Academics, Boys Swimming, Girls Swimming, and Girls Track. Several students also led the Robotics Silverbolt team to the first world championships in Spring of 2017.
PSAT, ACT and SAT scores well above Texas and National Averages.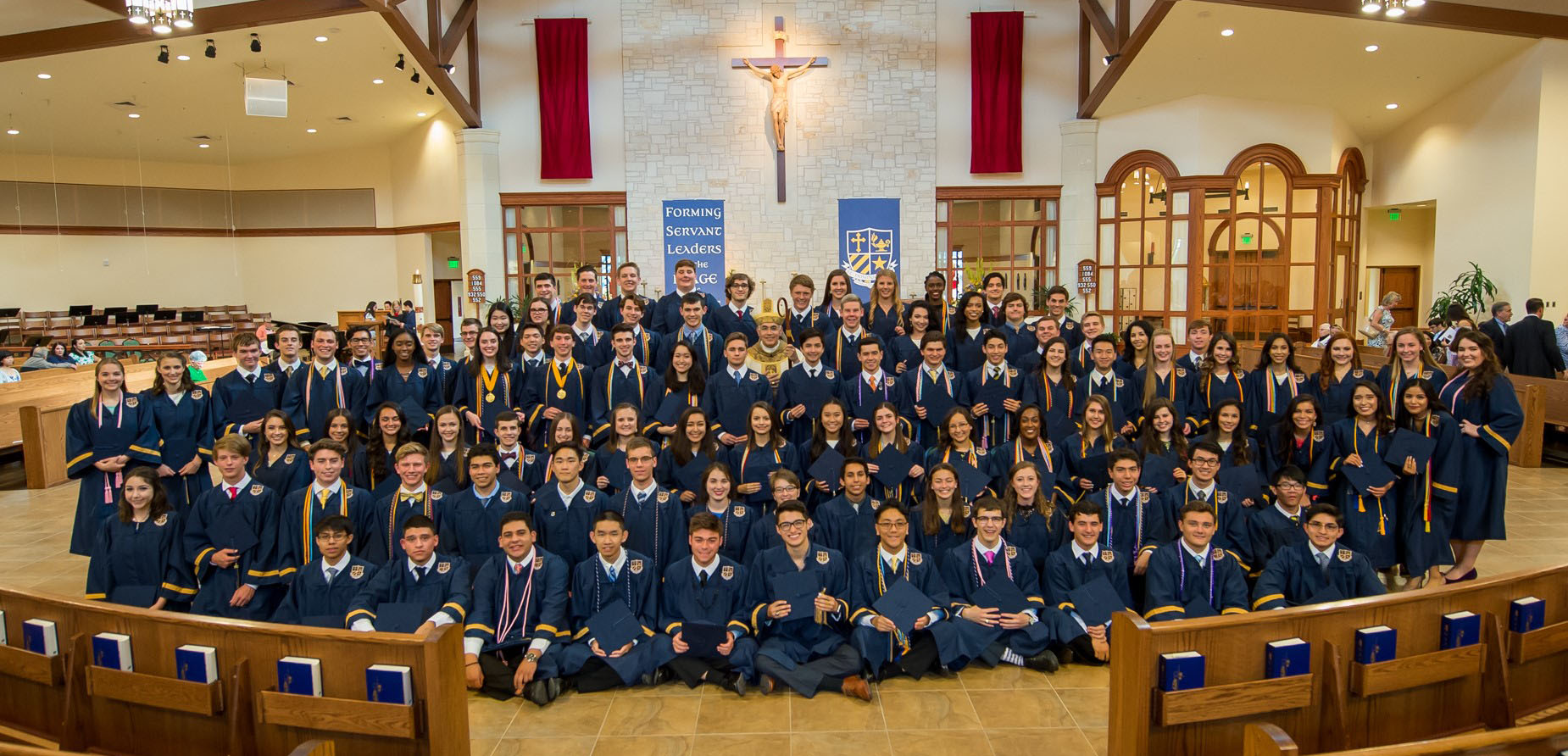 2017 Exam Results
154 students completed 373 AP exams in 21 subjects.
78% of students scored a 3 or higher (46% scored a 3 or higher in the state of Texas).
24 students earned the recognition of AP Scholar. 17 students earned AP Scholar with Honors, 27 students earned AP Scholar with Distinction, and 4 students were named National AP Scholars.
The Diocese of Austin has been named to the 8th Annual AP District Honor Roll. The honor roll consists of school systems that simultaneously achieved increases in access to Advanced Placement courses for a broader number of students and also maintained or improved the rate at which their AP students earned scores of 3 or higher on an AP Exam.
The Diocese of Austin was also recognized as a school system that has 30% or greater enrollment of American Indian, African American and Hispanic/Latino students.
National Merit Recognition
Total National Merit Scholars since the first graduating class in 2012:
10 National Merit Scholars, 19 National Hispanic Scholars, 41 National Merit Commended Scholars
2016-2017 National Merit Finalists
Matthew Bianchi, Eleazar Camez, Daniel Jilek, Charles "Fletch" McCluskey, Emily Shoemaker, Mark Simmons
2016-2017 National Merit Commended
Michaela Barone, John DiGravio, Jack Frey, Nicholas Isakson, Andrew Kalamarides, Angele Kelly, Natalie Reysa, Thanh Tran, Ben Wagner
2016-2017 National Hispanic Scholars
Nicholas Butler, Eleazar Camez, Aaron Mink, Jennifer Sanchez